An Idol Meeting Her Idol: MAMAMOO's Moonbyul Cries After Meeting Girls' Generation's Taeyeon!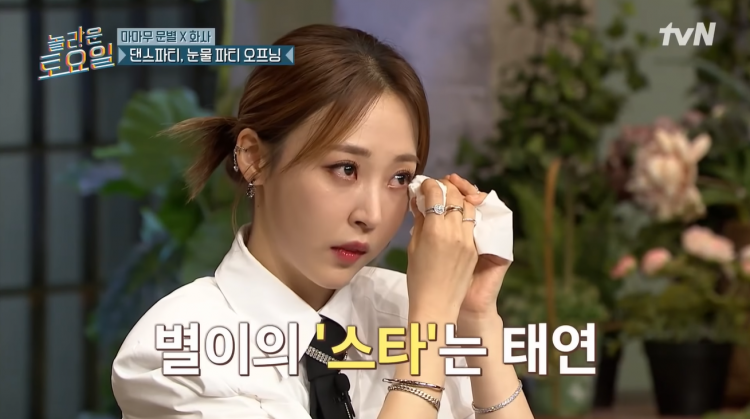 It is always a wholesome sight to see when popular K-pop idols show their down-to-earth side when they meet their personal idols. Thus, when Moonbyul met Girls' Generation's Taeyeon On the "Amazing Saturday," the MAMAMOO member could not help but shed tears.
Notably, MAMAMOO's Moonbyul recently made her comeback with her mini-album entitled "6equence," and with it also came her title track "Lunatic"! Due to this, the K-pop idol held a showcase and she also sat down for an interview for her latest comeback.
READ: GOT7, MAMAMOO, Wanna One, Girls' Generation's Taeyeon, & More: K-Pop Comebacks & Debuts This January!
As part of RBW's popular K-pop girl group MAMAMOO, Moonbyul is going to be celebrating her 8th anniversary since her debut as an idol this year in 2022 and 2 years since she made her solo debut with her debut song "Selfish."
In the aforementioned interview, MAMAMOO's Moonbyul shared that even though she has been a K-pop idol for a long time, she remained busy learning and growing as an artist, always being humble.
Moonbyul also went on to share how she did not even have time to think about how she felt regarding everything, until the one moment she met her favorite K-pop, Girls' Generation's leader, Taeyeon on the variety show "Amazing Saturday."
The K-pop idol recalled that when she met Taeyeon and the SNSD member said her name, she felt like she was being comforted for all the years of hard work she had gone through. This was extremely sweet as Moonbyul is a known So-One, the fandom name of Girls' Generation.
MAMAMOO's Moonbyul adorably shared, "I remember asking myself inside, 'Why am I crying?' and being taken aback by my own tears. It was something I'd never felt before. When Taeyeon reached out to me and said 'Byul-a,' that one word was so overwhelming and it felt like a pat on my heart, as if saying, 'You've worked so hard. You're doing great.'"
Congratulations to MAMAMOO's Moonbyuuul for a successful comeback!
© 2022 Korea Portal, All rights reserved. Do not reproduce without permission.
Tags:
Amazing Saturday
,
Amazing Saturday news
,
Amazing Saturday updates
,
MAMAMOO Amazing Saturday
,
Amazing Saturday MAMAMOO
,
MAMAMOO Moonbyul Amazing Saturday
,
Amazing Saturday MAMAMOO Moonbyul
,
Moonbyul Amazing Saturday
,
Amazing Saturday Moonbyul
,
Amazing Saturday Taeyeon
,
Taeyeon Amazing Saturday
,
kwave
,
kwave news
,
kwave updates
,
Kpop
,
kpop news
,
Kpop updates
,
RBW
,
RBW news
,
RBW updates
,
RBW artists
,
RBW Entertainment
,
RBW Entertainment artists
,
RBW Entertainment news
,
RBW Entertainment updates
,
RBW Entertainment MAMAMOO
,
RBW Entertainment MAMAMOO Moonbyul
,
RBW Entertainment Moonbyul
,
Mamamoo
,
MAMAMOO News
,
MAMAMOO Updates
,
MAMAMOO nembers
,
MAMAMOO Moonbyul
,
MAMAMOO Moonbyul news
,
MAMAMOO Moonbyul updates
,
MAMAMOO Moonbyul solo
,
MAMAMOO Moonbyul solo comeback
,
MAMAMOO Moonbyul comeback
,
MAMAMOO Moonbyul and Taeyeon
,
Taeyeon and MAMAMOO Moonbyul
,
Moonbyul
,
Moonbyul news
,
Moonbyul updates
,
Moonbyul solo
,
Moonbyul comeback
,
Moonbyul solo comeback
,
Moonbyul LUNATIC
,
MAMAMOO Moonbyul LUNATIC
,
LUNATIC
,
Moonbyul 6equence
,
MAMAMOO Moonbyul 6equence
,
6equence
,
Taeyeon
,
Taeyeon news
,
Taeyeon updates
,
Taeyeon and Moonbyul
,
Moonbyul and Taeyeon
,
SNSD
,
SNSD Taeyeon
,
Girls' Generation
,
girls generation taeyeon