4 States Have Fewer Than 10% ICU Capacity, US Hospitals Face Staffing Shortages Amidst Omicron Surge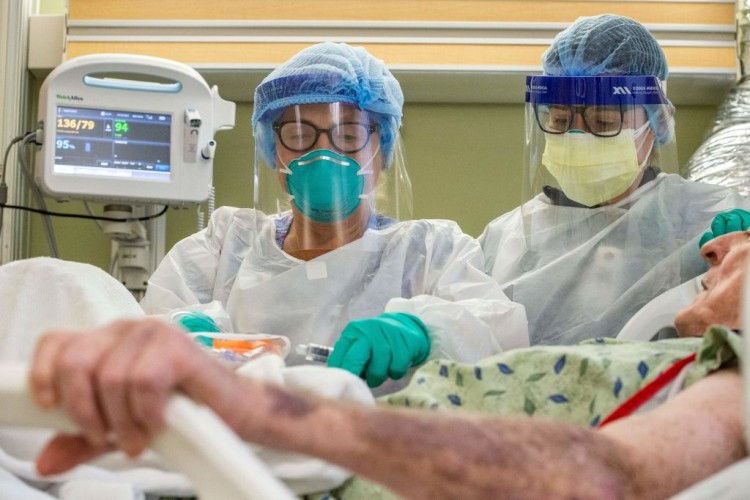 Due to the rapidly spreading Omicron variant, a record number of Americans are infected with Covid-19 leaving states' health care systems face staffing and ICU beds shortages.
The hospitalization rate in the US reached a record high of 151,261 as of Wednesday. States' healthcare systems are left grappling to handle staff shortages as medical workers must isolate once tested positive for the virus.
READ: Omicron Wreaks Havoc In The U.S., Makes Up 95% Of New Covid Cases
In order to alleviate the staffing shortage and accommodate patients who need help immediately, Washington Governor Jay Inslee announced he would be requiring hospitals to halt nonurgent procedures temporarily. Governor Inslee reiterated that such requirement "not just for Omicron patients, but for heart attack victims, for car crash victims, for gunshot victims, they all need help right now."
Additionally, National Guard personnel and other federal emergency teams have also been sent to hospitals in places including Kentucky and New Hampshire to help with staffing shortages.
READ: Macy's Cuts Store Hours For The Rest Of The Month Amid Covid Cases Spike
As of the writing of this article, CNN reported that nineteen states have less than 15% of ICU beds left. In fact, according to the data from the US Department of Health and Human Services, four states, including Kentucky, Alabama, Indiana, and New Hampshire have less than 10% remaining ICU capacity.
The other states which have less than 15% remaining ICU capacity are Arizona, Delaware, Georgia, Massachusetts, Mississippi, Missouri, Nevada, New Mexico, North Carolina, Ohio, Oklahoma, Pennsylvania, Rhode Island, Texas, and Vermont.
READ: Bill Gates Says COVID-19 Will Be Similar To Seasonal Flu When Omicron Variant Passes!
Despite early research pointing out that the Omicron variant poses less chance of hospitalization compared to the Delta variant and others, its increased transmissibility means more unvaccinated or immunocompromised people are at risk of infection.
© 2022 Korea Portal, All rights reserved. Do not reproduce without permission.