Talents Over Visuals: (G)I-DLE's Soyeon Calls Out 'My Teenage Girl' Voters!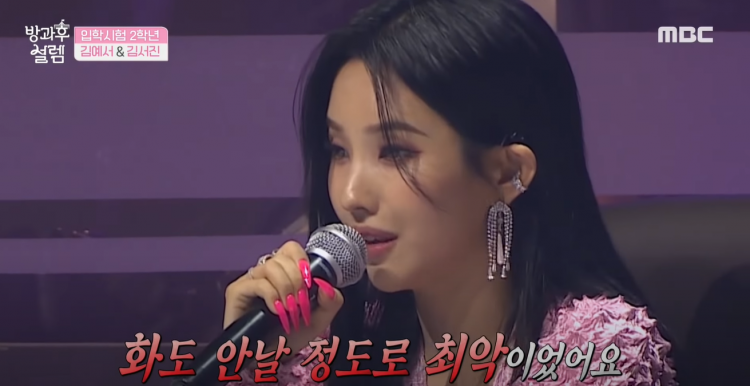 MBC's "My Teenage Girl" aired its first episode and it was a huge success. The final 83 contestants that qualified for the survival show performed their evaluation stages for the mentors. Beyond that, (G)I-DLE Soyeon's comments also went viral.
"My Teenage Girl" contestants Kim Ye Seo and Kang Seo Jin performed OH MY GIRL's "Nonstop" while rocking matching yellow outfits in the first episode. The mentors then gave their judgment at the end of their performance.
Among them, (G)I-DLE's Soyeon was the first to give her thoughts on the performance. Soyeon of (G)I-DLE openly asked if the 'blind' round audience voters were able to hear the two contestant's vocal talents well.
The first episode of "My Teenage Girl," had rounds where the contestants needed to pass. The contestants had to pass the first round which was decided by audience votes, called the 'blind' audition round, to pass through the mentors.
If the contestants were able to get more than 75% of audience votes in "My Teenage Girl," a door that led to the mentors would be open where a second round of evaluations from the mentors would carry on.
(G)I-DLE's Soyeon added, "Of all the stages that I've watched today, it was the worst performance I saw. It was so bad, I didn't even get mad."
(G)I-DLE's Soyeon noted that she had the exact reason for her previous disappointment. She shared that there were a lot of other talented contestants before the "Nonstop" duo that the mentors were unable to meet and Girls' Generation's Yuri agreed with this.
"You're right," Girls' Generation's Yuri commented towards (G)I-DLE Soyeon.
READ: SM Entertainment Updates Fans On Girls' Generation Yuri's Health Amidst COVID-19 Scare!
(G)I-DLE's Soyeon plainly noted, "There were so many talented contestants that we were unable to meet because the door was not open for them."
But to the surprise of fans, (G)I-DLE's Soyeon also called out the audience in charge of the "blind" round auditions for incorrectly choosing the venue.
"This is a place where we are taking the dreams of contestants and evaluating them on their abilities. I believe that the audience members judging the 'blind' round stages should have pressed their buttons with that kind of responsibility," (G)I-DLE's Soyeon expressed.
She concluded her evaluation with just 5 words to sum up the entire situation.
"Honestly, I'm a bit angry," (G)I-DLE's Soyeon frankly commented.
© 2023 Korea Portal, All rights reserved. Do not reproduce without permission.
Tags:
kwave
,
kwave news
,
kwave updates
,
Kpop
,
kpop news
,
Kpop updates
,
MBC
,
MBC news
,
MBC updates
,
MBC shows
,
MBC progrmas
,
MBC show
,
MBC program
,
MBC My Teenage Girl
,
My Teenage Girl
,
My Teenage Girl news
,
My Teenage Girl updates
,
(G)I-DLE
,
(G)I-DLE news
,
(G)I-DLE updates
,
(G)I-DLE Soyeon
,
(G)I-DLE Soyeon news
,
(G)I-DLE Soyeon updates
,
Soyeon
,
Soyeon news
,
Soyeon updates
,
Jeon Soyeon
,
Jeon Soyeon news
,
Jeon Soyeon updates
,
(G)I-DLE Jeon Soyeon
,
(G)I-DLE Jeon Soyeon news
,
(G)I-DLE Jeon Soyeon updates