TWICE's Tzuyu Slays In Her First Ever Magazine Cover Shoot With L'Officiel!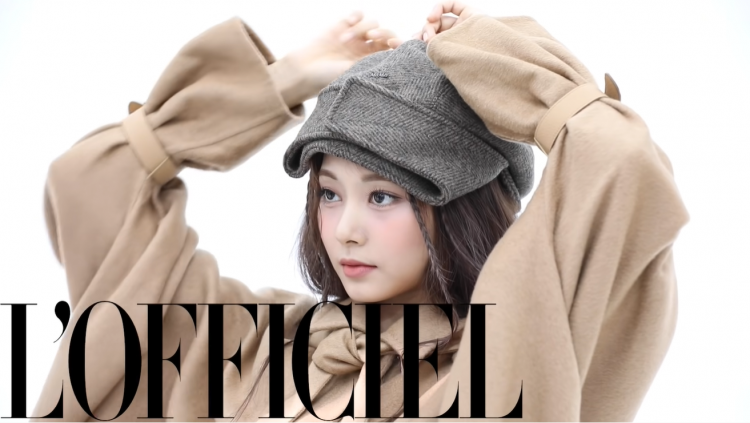 Tzuyu, TWICE's very own maknae, was reportedly nervous about her first-ever solo photoshoot with L'Officiel. But Tzuyu slayed the photoshoot, showing why she is a visual!
TWICE's Tzuyu was recently featured as the cover of L'Officiel magazine in both Singapore and Malaysia. In her interview with L'Officiel, Tzuyu looked back on how much TWICE has changed and how much she has grown personally due to TWICE's shifting concepts.
On the 26th of October, a behind-the-scenes video from TWICE Tzuyu's cover shoot was uploaded to TWICE's official YouTube channel and fans simply loved how natural Tzuyu was in the shoot.
To no one's surprise, the camera loved TWICE's Tzuyu and she slayed in all concepts given to her.
Although Tzuyu has previously posed for album covers and magazines with the other members of TWICE, she revealed that she was truly nervous about doing her first-ever solo magazine photoshoot.
Tzuyu stated that she was afraid that she would be awkward during the photoshoot, but she had nothing to worry about at all. As the photoshoot was nothing short of perfect, showing how much the camera loves TWICE's maknae.
Tzuyu even credited her photographer for giving her great directions and for taking amazing photos of her.
Furthermore, in the L'Officiel photoshoot, Tzuyu talked about her first-ever photoshoot and looked back on how much she has grown since that time. She remembered being really tense and not knowing what to do, which is something not surprising for artists who are not yet familiar with the camera.
This time, TWICE's Tzuyu showed her growth compared to before. She did so well during the photoshoot that even she was surprised at how the photos turned out.
Needless to say, Tzuyu served fans with her ultimate visuals as her shoot with L'Officiel was nothing short of amazing.
© 2022 Korea Portal, All rights reserved. Do not reproduce without permission.
Tags:
kwave
,
kwave news
,
kwave updates
,
Kpop
,
kpop news
,
Kpop updates
,
JYP
,
JYP artists
,
JYP Entertainment
,
JYP Entertainment artists
,
JYP Entertainment news
,
JYP Entertainment updates
,
JYP Entertainment TWICE
,
JYP Entertainment TWICE Tzuyu
,
JYP Entertainment Tzuyu
,
TWICE
,
TWICE news
,
TWICE Updates
,
Twice Tzuyu
,
TWICE Tzuyu news
,
TWICE Tzuyu updates
,
TWICE Tzuyu L'Officiel
,
L'Officiel TWICE Tzuyu
,
L'Officiel
,
L'Officiel magazine
,
L'Officiel news
,
L'Officiel updates
,
L'Officiel Tzuyu
,
Tzuyu L'Officiel