Death Threats & More, Sunmi Responds To Inappropriate Comments From 'Girls Planet 999' Viewers!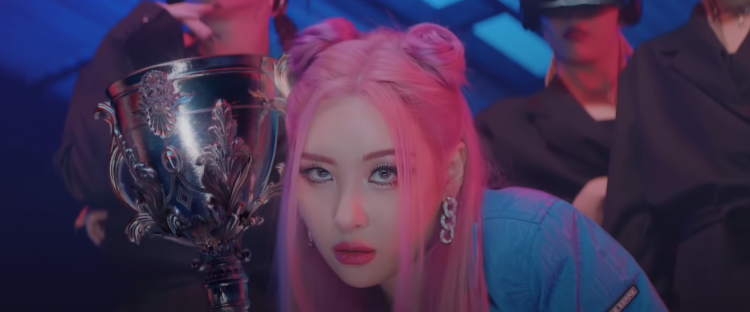 No matter who you are, either a regular citizen or a K-pop superstar, death threats are never an acceptable thing to receive.
Just recently, K-pop icon Sunmi has personally responded to death threats and malicious comments she has gotten due to her appearance on Mnet's popular survival show, "Girls Planet 999."
At present, Sunmi is currently appearing on the Mnet survival program as a 'K-pop master', the role of which stands as being both a mentor and judge for the survival program's participants.
On the 11th of October, Sunmi went on her personal Twitter to post screenshots from an online forum to which a lot of "Girls Planet 999" fans go. Notably, one post was entitled "How should I kill this b*tch Sunmi hehehe."
One comment even expressed, "As soon as Sunmi releases an album, I'm going to f*cking curses her out like crazy in realtime on Melon."
Furthermore, two netizens replied to the aforementioned comment by saying "Hehehe she'll get lots of complaints about how she doesn't have an aura," and "Crazy shaman b*tch hehehe," respectively.
All the hate Sunmi has been getting stems from a comment she made in the first episode of Mnet's "Girls Planet 999."
Responding to the plethora of malicious comments, Sunmi wrote:
"What did I do that was so wrong?
What should I do?
What about me made you hate seeing me so much and made you want to kill me? Was it my judging standards that I mentioned in Episode 1? Up until now, I've been monitoring [the show] and making efforts to talk [on the program] in a way that more people would be able to relate to and understand. I also genuinely spent every moment sincerely thinking about what more I could do for our [contestants].
Just cheer harder for our [contestants], please."
Comments that personally target and threaten a person are always a toxic thing to do. Fans of Sunmi, although upset, are just happy that she is taking the high road by choosing to respond tastefully and with grace.
© 2023 Korea Portal, All rights reserved. Do not reproduce without permission.
Tags:
Girls Planet 999
,
Sunmi Girls Planet 999
,
Girls Planet 999 Sunmi
,
Girls Planet 999 news
,
Girls Planet 999 updates
,
mnet girls planet 999
,
Mnet
,
mnet news
,
mnet updates
,
mnet shows
,
Mnet programs
,
mnet shows
,
kwave
,
kwave news
,
kwave updates
,
Kpop
,
kpop news
,
Kpop updates
,
ABYSS COMPANY
,
ABYSS COMPANY artists
,
ABYSS COMPANY news
,
ABYSS COMPANY updates
,
ABYSS COMPANY Sunmi
,
Sunmi
,
SUNMI news
,
SUNMI updates
,
Sunmi Death threats