Check Out The Results Of The Second Elimination Round Of 'Girls Planet 999'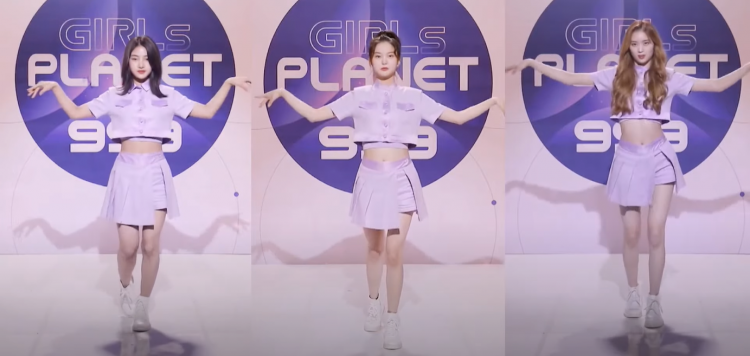 The results of the second elimination round of "Girls Planet 999" are out. Check out if your favorite trainee made it through.
On September 24, Mnet's "Girls Planet 999" held its second elimination round. For this round, the result was decided based on the individual votes of each contestant. Only the top eight from each of the K (Korean), C (Chinese), and J (Japanese) groups will survive the second elimination round. However, the Masters can save three eliminated contestants through a Planet Pass.
Here is the list of "Girls Planet 999" contestants who survived the second elimination round.
K Group
#1 Choi Yujin
#2 Kim Chae Hyun
#3 Kim Da Yeon
#4 Kang Ye Seo
#5 Seo Young Eun
#6 Guinn Myah
#7 Kim Bo Ra
#8 Huening Bahiyyih
C Group
#1 Shen Xiao Ting
#2 Su Rui Qi
#3 Huang Xing Qiao
#4 Cai Bing
#5 Wen Zhe
#6 Chen Hsin Wei
#7 Fu Ya Ning
#8 Xu Zi Yin
J Group
#1 Kawaguchi Yurina
#2 sakamoto Mashiro
#3 Ezaki Hikaru
#4 Nonaka Shana
#5 Nagai Manami
#6 Kishida Ririka
#7 Ikema Ruan
#8 May
Despite qualifying for the next ground, C Group contestant Xu Zi Yin decided to step down from the program. The trainee cited health reasons for her decision to withdraw from "Girls Planet 999." On the other hand, the three constants saved by the Masters through the Planet Pass are Kim Su Yeon (K Group, Zhou Xin Yu (C Group), and Kamimoto Kotone (J Group).
Meanwhile, here is the list of contestants that were eliminated from "Girls Planet 999."
Kim Do Ah
Jeong Ji Yoon
Liang Jiao
Li Yiman
Kuwahara Ayana
Arai Risako
Hsu Nien Tzu
Sakamoto Shihona
Wu Tammy
Sakurai Miu
Choi Ye Young
Kubo Reina
Yang Zi Ge
Huh Ji Won
Chia Yi
Yamauchi Moana
Lee Chae Yun
Leung Cheuk Ying
Lee Hye Won
An Jeong Min
Wang Ya Le
Fujimoto Ayaka
Zhang Luo Fei
Hayase Hana
Yoon Ji A
Shima Moka
Stay tuned for more updates!
© 2022 Korea Portal, All rights reserved. Do not reproduce without permission.
Tags:
Girls Planet 999
,
mnet girls planet 999
,
Girls Planet 999 news
,
Girls Planet 999 updates
,
Mnet Girls Planet 999 news
,
Mnet Girls Planet 999 updates
,
Girls Planet 999 UNIVERSE
,
CLC Yujin Girls Planet 999
,
Girls Planet 999 CLC Yujin
,
Girls Planet 999 when to air
,
Girls Planet 999 second elimination
,
Girls Planet 999 results
,
Mnet Girls Planet 999 elimination round
,
Girls Planet 999 elimination round
,
kwave
,
Kpop