BTS Wins 4th Daesang Award At The 2021 The Fact Music Awards!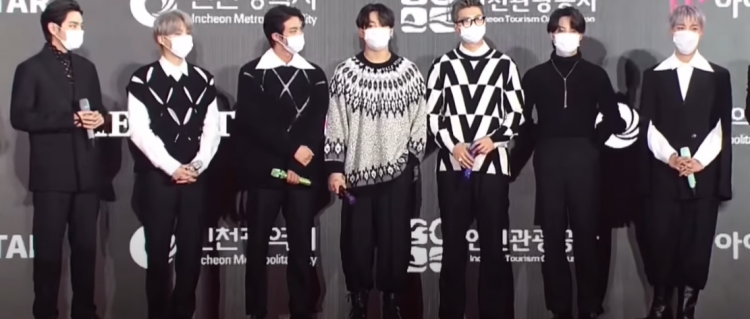 On the 2nd of October, The 2021 The Fact Music Awards occurred as an "on-tact" ceremony, which means online and contact-free. The event was hosted by Shin Dong Yup, Girls' Generation's very own Seohyun, and Boom.
The event had BTS, SEVENTEEN, ITZY, Stray Kids, ATEEZ, THE BOYZ, Super Junior, Oh My Girl, Brave Girls, ENHYPEN, ASTRO, STAYC, Hwang Chi Yeol, Kang Daniel, CRAVITY, Weeekly, and Lim Young Woong as performers and nominees of their awards.
Notably, though, the artist that garnered the most awards (which were 5) was none other than BTS. The boy group took home the Daesang, Artist of the Year (Bonsang), Listener's Choice, Fan N Star Most Voted (Singer), and the U+ Idol Live Popularity Award.
Notably, this was BTS' 4th straight Daesang award and each member had a piece in their acceptance award!
RM noted that BTS is grateful to have received such a big award. BTS has done and achieved a lot in 2021, from getting No. 1 on Billboard's "Hot 100," performing at the Grammys, and going to the United Nations. Beyond this, RM said that BTS misses their fans.
"I wasn't able to attend award shows last year because of my shoulder surgery, so I'm happy to be here today. A lot of things happened this year, but I'm excited to think that we will be able to meet ARMY soon. I want to meet ARMY all over the world," Suga added
As for J-Hope, he said that he is most grateful to ARMY. He also took the chance to say thank you to BTS' staff members, due to their relentless hard work. "It's thanks to our staff members that we were able to get here," J-Hope wholeheartedly added.
V then expressed that he came to Seoul when he was 17 and currently he is 27 years old. He noted his gratitude to the BTS members for staying by his side for 10 years. "ARMY, I love you," V Added.
"We're also grateful to our family and our family at Big Hit, and HYBE as well. I think that our agency has put in a lot of work. Our agency has good ears for music. I think that we chose our agency well, so I hope that we can keep going forward with them and ARMY," Jin noted.
As per Jimin, it's been nine years for me. He thinks that his Seoul dialect has gotten better since then and he is always working hard. Jimin then thanked ARMYs for always supporting them.]
"There isn't much left of this year. I want to spend the rest of it making happy memories with ARMY. I miss you. Thank you very much!," Jungkook concluded.
Congratulations to BTS!
© 2022 Korea Portal, All rights reserved. Do not reproduce without permission.
Tags:
2021 The Fact Music Awards
,
2021 The Fact Music Awards news
,
2021 The Fact Music Awards updates
,
The 2021 The Fact Music Awards
,
The 2021 The Fact Music Awards news
,
The 2021 The Fact Music Awards updates
,
BTS The 2021 The Fact Music Awards
,
The 2021 The Fact Music Awards BTS
,
BTS 2021 The Fact Music Awards
,
2021 The Fact Music Awards BTS
,
HYBE
,
HYBE news
,
HYBE updates
,
HYBE BTS
,
HYBE Labels
,
HYBE Labels news
,
HYBE Labels updates
,
HYBE Labels BTS
,
BTS
,
bts news
,
BTS Updates