Netizens Upset As Amidst Garnering Multiple Wins With 'STEREOTYPE', STAYC's 'Phone Ban' Still Active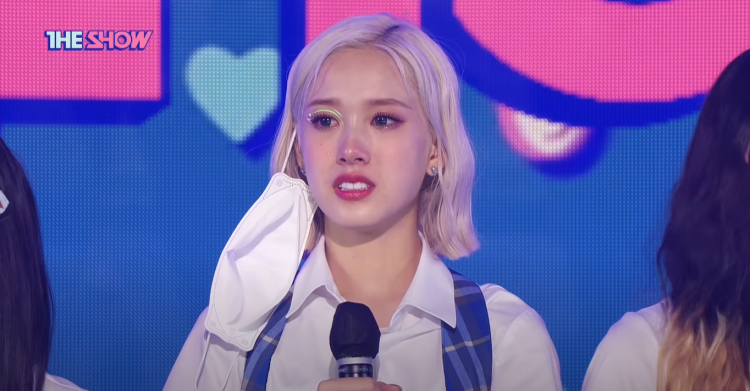 On the 14th and 15th of September, STAYC garnered their first and second music show wins with "STEREOTYPE" on "The Show" and "Show Champion", respectively.
Congratulations to STAYC for their recent wins!
But although Swiths (the fandom name of STAYC) are extremely proud of their STAYC girls, Highup Entertainment, STAYCs company, have been garnering heat as it has come to the fans' attention that STAYC's 'phone ban' is still effective.
Notably, the CEO of Highup Entertainment noted that the members of STAYC will get their phones back on the condition of the girls getting their first win. As of writing this article, STAYC has already gotten two wins but the member's phones still have not been returned.
Due to this, netizens and fans are calling out Highup Entertainment!
With STAYC's recent wins, Swiths were extremely proud of them. Even more so because STAYC could finally receive their phones back as previously in April of this year, STAYC revealed that their CEO, Black Eyed Pilseung, had banned the members from using phones until they receive their first win.
But fans are still waiting for any indication that STAYC got their phones back. It was recently found out that STAYC's CEO would only return their phones if STAYC won on public broadcasting channels such as KBS's "Music Bank," MBC's "Music Core," or SBS's "Inkigayo."
Swiths believe this is unfair as it is more difficult to win on a public broadcast music show as other K-pop artists who are also on the veteran and more popular spectrum are always active among the finalists, as compared to STAYC, who is still a rookie group.
Aside from the amount of work STAYC puts in to achieve their recent wins, the support of fans is also a huge factor, thus why fans are calling out STAYC's CEO and Highup Entertainment.
Stay tuned for more updates and news regarding STAYC!
© 2022 Korea Portal, All rights reserved. Do not reproduce without permission.
Tags:
kwave
,
kwave news
,
kwave updates
,
Kpop
,
kpop news
,
Kpop updates
,
HighUp Entertainment
,
HighUp Entertainment news
,
HighUp Entertainment updates
,
HighUp Entertainment artists
,
HighUp Entertainment STAYC
,
STAYC
,
STAYC news
,
STAYC updates
,
STAYC comeback
,
STAYC Stereotype!
,
STAYC new album
,
STAYC new song
,
STAYC new track
,
Stereotype!
,
STAYC phone ban
,
phone ban
,
STAYC girls
,
Swiths