TWICE's Jeongyeon Serves ONCEs With Elite Visuals In Recent Photoshoot With Esquire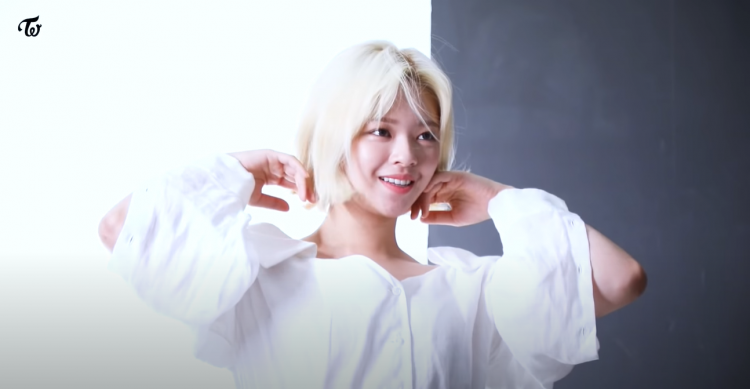 ONCEs and Jeongyeon fans unite! TWICE's vocalist finally flexed her visuals in a recent photoshoot and she completely took all the attention. In true Jeongyeon fashion, she simply slayed.
As of writing this article, yesterday on the 19th of July, a behind-the-scenes video was uploaded on TWICE's official YouTube channel. The video featured TWICE's Jeongyeon and she had her first solo photoshoot in a long time as she was featured on Esquire's July 2021 issue.
The behind-the-scenes video, lasting a little over 3 minutes, showed TWICE's Jeongyeon on the day of her shoot with Esquire. The TWICE member sported a plethora of outfits and she was able to rock all of them.
Initially, Jeongyeon wore an outfit consisting of a big cute blazer alongside a white choker top. TWICE's Jeongyeon did not hold back as she immediately served her visuals to the camera.
Following this, TWICE's Jeongyeon rocked a black and navy top with a belt-like cinched at the top of her waist. Although dark compared to her prior outfit, Jeongyeon was able to rock it as well.
The third outfit that Jeongyeon modeled was a gray sweater dress, giving volume and attention towards her body. Comfortable, stylish, and fashionable. This is something Jeongyeon would surely regularly wear.
Moreover, as per TWICE's Jeongyeon, the outfit that she enjoyed wearing the most in the photoshoot was a suit that was monochromatic.
"I love all the outfits for this photoshoot, but my favorite is the suit! It really suits my style," TWICE's Jeongyeon shared.
Ahead of this, JYP Entertainment's TWICE's Jeongyeon then modeled a plain blouse that was complemented with a one-shouldered pantsuit. Daring yet still within the lines of what Jeongyeon would usually style herself with.
Lastly, TWICE's Jeongyeon was draped in an off-shoulder dress that was white, which she once again rocked.
© 2023 Korea Portal, All rights reserved. Do not reproduce without permission.
Tags:
Esquire
,
Esquire news
,
Esquire updates
,
TWICE Esquire
,
Esquire TWICE
,
TWICE Jeongyeon
,
Esquire TWICE Jeongyeon
,
kwave
,
kwave news
,
kwave updates
,
Kpop
,
kpop news
,
Kpop updates
,
JYP
,
JYP artists
,
JYP Entertainment
,
JYP Entertainment artists
,
JYP Entertainment news
,
JYP Entertainment updates
,
JYP Entertainment TWICE
,
JYP Entertainment TWICE Jeongyeon
,
TWICE
,
TWICE news
,
TWICE Updates
,
TWICE photoshoot
,
TWICE Jeongyeon news
,
TWICE Jeongyeon updates
,
Jeongyeon
,
Jeongyeon news
,
Jeongyeon updates
,
Jeongyeon photoshoot
,
once