Intimidating? Sweet? Natural? TWICE's Dahyun & Sana Admit Their First Impressions Of One Another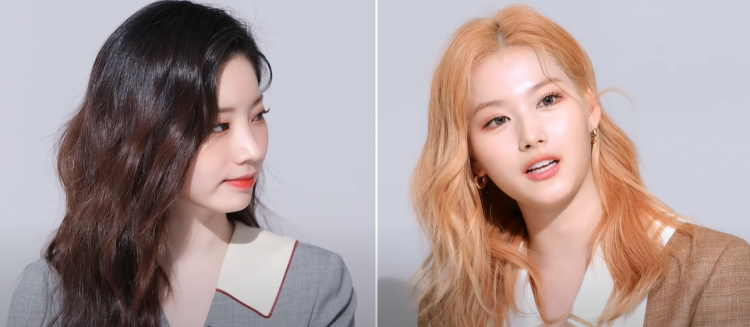 JYP Entertainment's TWICE has been together for 6 years now and surely, after promoting, filming, recording, and spending time with each other for so long, a bond that is unbreakable has formed.
Just like most people, the impressions of the members of TWICE with one another have surely shifted through the years. This is evident as two members of TWICE were featured in an interview and they talked about their first thoughts on each other.
TWICE's very own Sana And Dahyun were featured in Newsen's chemistry test. Sana and Dahyun were asked several questions regarding each other, the other TWICE members, and TWICE in general.
Both Sana and Dahyun had to guess the same answer and with this, the two were able to share a plethora of information.
TWICE's Sana and Dahyun were first asked where they met each other for the first time. Both correctly guessed the answer; the building of their agency, JYP Entertainment. To add to this, Dahyun even noted that she met Sana on the fourth floor of the building.
TWICE's Sana went on to share that before she met Dahyun, there was a girl who looked the same or close to similar with Dahyun. Thus, this was Sana's first impression of Dahyun.
TWICE's Dahyun went on to recollect how Sana was as a trainee and it was adorable.
TWICE's Dahyun revealed, "When I first saw you, you always carried an iPad this big [gesturing the size] and wore black sweatpants with elastic bands around your ankles."
This shows how close the two TWICE members are as they both can recall simple details of when they first met. TWICE will surely last as a group and hopefully, the members make more memories with one another.
Hopefully, the other members of TWICE will be able to share their first impressions with one another so ONCEs can enjoy TWICE's past while cheering TWICE on in the present and looking forward to TWICE's future.
© 2023 Korea Portal, All rights reserved. Do not reproduce without permission.
Tags:
Newsen
,
Newsen news
,
Newsen updates
,
TWICE Newsen
,
Newsen TWICE
,
Newsen chemistry test
,
TWICE Newsen chemistry test
,
Newsen chemistry test TWICE
,
Sana and Dahyun Newsen chemistry test
,
Dahyun and Sana Newsen chemistry test
,
JYP
,
JYP artists
,
JYP Entertainment
,
JYP Entertainment news
,
JYP Entertainment updates
,
JYP Entertainment TWICE
,
TWICE
,
TWICE news
,
TWICE Updates
,
TWICE Sana
,
TWICE Dahyun
,
TWICE Sana news
,
TWICE Sana updates
,
TWICE Dahyun news
,
TWICE Dahyun updates
,
Sana
,
Sana news
,
Sana updates
,
Dahyun
,
Dahyun news
,
Dahyun updates
,
Dahyun and Sana
,
Sana and Dahyun