K-Drama Fans Are Ecstatic For The Musical Version Of 'Crash Landing On You'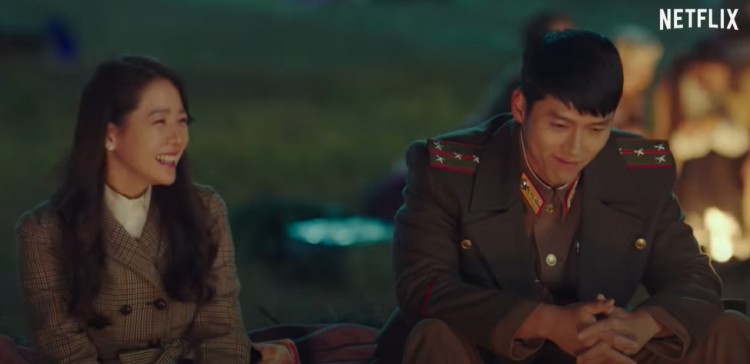 This is a show you will never want to miss! Hit Korean drama series "Crash Landing On You" is turning into a musical. Theater and K-Drama fans will love this. Social media immediately came abuzz when they heard that a musical version of "Crash Landing On You" is in the works for 2022.
Netizen @taepyvng wrote on Twitter, in all-caps, "Oh my God, 'Crash Landing On You' musical next year." They included photos of the official poster.
Fans loved the original series when it first aired on TV. "Crash Landing On You," tells the story of wealthy South Korean heiress Yoon Se-ri, portrayed by Son Ye-jin, who does her emergency landing in North Korea during her paragliding trip to meet Captain Ri, portrayed by Hyun Bin, part of the elite military.
Are they also going to see the classic landing on Son Ye-jin's character from the parachute to get to know Hyun Bin in a musical? How about the rest of the scenes? We will find out.
The breaking news is all over the media worldwide.
"This is going to be amazing!" @tangerinebysheh posted on Twitter.
The Twitter account of the Philippines-based magazine Metro Style also shared their insights, "OMG #BinJin fans, are you ready?"
There were already fans who imagined stars Hyun Bin and Son Ye-jin attending the musical. No official details yet revealed on whether the lead actors for the musical are Hyun Bin and Son Ye-jin themselves.
Yesterday, production group Pop Music unveiled that tvN's popular show "Crash Landing On You" will return in a musical by 2022.
Insiders who got details from Pop Music and T2N Media, production companies with Studio Dragon where the global publication rights for "Crash Landing On You" come from, said the companies plan to carry out performances in South Korean capital Seoul by the middle of 2022.
"We concluded the deal for publication rights with Studio Dragon, and we plan to start choosing the main staff and begin casting. We will do our best to create a good project. In particular, since it's a project in which the fame of the source IP (intellectual property) is very large, we've already received inquiries from many actors and foreign production companies," Pop Music CEO Kim Jin Seok stated in the official statement.
A poster has been released for the upcoming "Crash Landing On You" musical, featuring the title in Korean characters, images of a piano by the sea, and more.
The series sets record-breaking viewership ratings in tvN history, scoring as much as 24.1 percent. It is also viewable via Netflix. Tickets and show details will be unveiled very soon.
© 2022 Korea Portal, All rights reserved. Do not reproduce without permission.