South Korea's Famous Tulip Fest Cancels; About 1 Million Flowers to Be Removed
by
Kim Jam
/ Feb 26, 2021 04:09 AM EST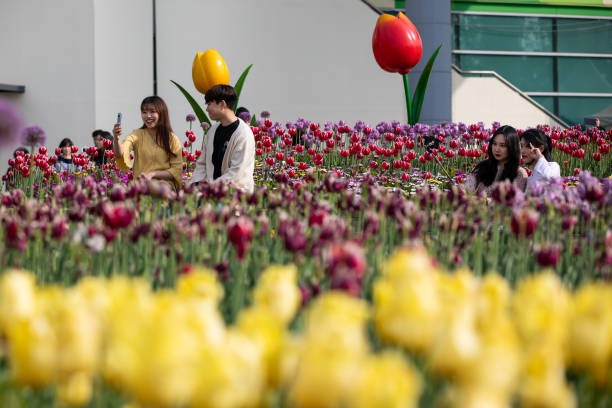 For about one million flowers from Imja Island to be removed again to prevent an influx of tourists, the annual spring blossom festival was canceled due to the coronavirus disease pandemic threat.
On Thursday, organizers announced a decision to cancel its well-renowned spring tulip festival's onsite viewing and online for the second time around since last year.
In 2020, Shinan county took the same extreme measure of eliminating as many as 1 million tulip flowers to comply with the government's social distancing rules thoroughly.
The county had previously considered holding this year's festival online but eventually decided to eliminate all flowers amid little signs of COVID-19 transmissions abating.
"We feel regret about the cancellation of the festival for two years in a row, but it was an inevitable decision to prevent the spread of COVID-19 in the community and protect people's safety," Park Woo-ryang, the county mayor, said in a statement.
The tulip festival commenced in the year 2008 and has continued to be one of the popular festivals, visited by more than 50,000 people from across the world in 2019 data alone.
Many local governments have already decided to cancel their annual spring flower festivals this year due to fears of COVID-19 transmission. However, some others consider holding festivals on a sharply reduced scale or in a non-face-to-face manner due to their reluctance to give up substantial tourism revenues.
The municipality of Gwangyang is asking people to refrain from visiting the Maehwa Village as part of its social distancing campaign. For that, the village will be closed and the village's public parking lot and persuade springtime visitors to stay away from the village via its website, social media, and banners.
Busan, the southern port city, has also decided to cancel its two landmark cherry blossom festivals annually hosted by Sasang and Gangseo wards, respectively.
Infection concerns also led to the Gurye Sansuyu Festival's cancellation, usually hosted by the South Jeolla Province county of Gurye every March, for the second consecutive year.
© 2021 Korea Portal, All rights reserved. Do not reproduce without permission.