Here Are The SM Idols That Could Become The Female SuperM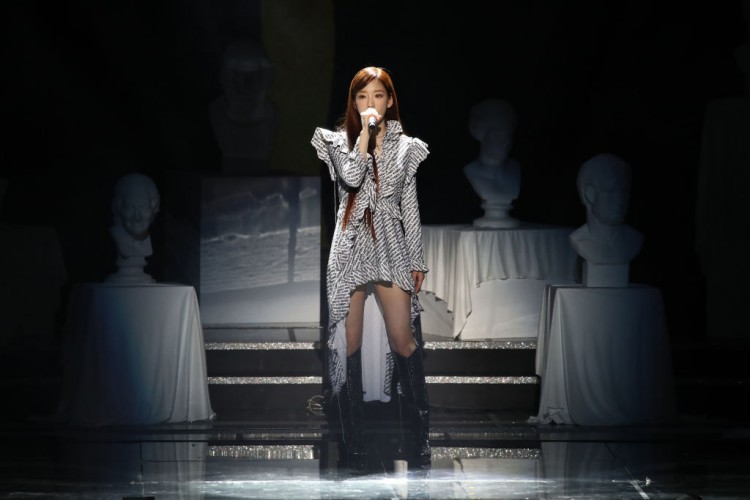 SM Entertainment created a supergroup with members from prominent boy groups such as SHINee, EXO, NCT, WayV.
With the success of SuperM, it's no denying that there is the potential of having a female version of the supergroup. After all, SM Entertainment has a number of feme-fatale idols that would perfectly complete the female SuperM lineup.
So, Insight, a Korean media outlet, selected the SM Entertainment female idols that would perfectly fit well the female SuperM concept. The current slate of SM active girl groups includes Girls' Generation, Red Velvet, and aespa. With the three groups known for their great stage presence, incredible vocal prowess, amazing dance skills, and killer visuals, it's a tough choice to select the best of the best, however, here are the chosen ones by Insight.
#1 Taeyeon from Girls' Generation
First on the list is no other than the main vocal and leader of the legendary K-pop girl group Girls' Generation, Taeyeon. She is one of the most highly-regarded female idol vocalists of her generation. Taeyeon's experience as the main vocal of the "Nation's Girl Group" is just but a fraction of the reason why she will be a great member of the female SuperM lineup. She is a celebrated soloist and an outstanding over-all performer. Taeyeon will be the main vocalist and dancer if she ever does join the female SuperM group.
#2 Seulgi from Red Velvet
Regarded as one of the top dancers of K-Pop's third-generation idol groups, Seulgi is a force to be reckoned with. As an all-rounder idol who can mesmerize fans with her outstanding vocals, powerful stage presence, and piercing gaze, Seulgi will be a great addition to the female SuperM lineup. If ever, Seulgi is expected to be the main dancer and lead vocalist of the group.
#3 Irene from Red Velvet
Irene is the "original visual," period. Her doll-like visuals make her the epitome of Korean beauty standards. Aside from her goddess-like beauty, she is a total performer and a great rapper that had captured both male and female fans. If SM Entertainment pushes through with the female SuperM idea, Irene will most likely be the sub-vocalist and visual of the group.
#4 Winter from aespa
Known for her uncanny resemblance with Girls' Generation Taeyeon, Winter has gained traction from fans since her debut with aespa last November 2020. Aside from that, Winter continues to gain attention from fans for her distinct vocals. If SM Entertainment is to form the female SuperM group, Winter is expected to be a lead vocalist.
#5 Karina from aespa
Even before her official debut, Karina has been a hot topic within the Korean pop fan community. With her "ulzzang" beauty, amazing body proportions, and dance skills, Karina can become a main or lead dancer as well as a sub-vocalist of the female SuperM group.
© 2023 Korea Portal, All rights reserved. Do not reproduce without permission.