aespa Members are Ethereal in Dreamy Concept Teasers + Get to know each member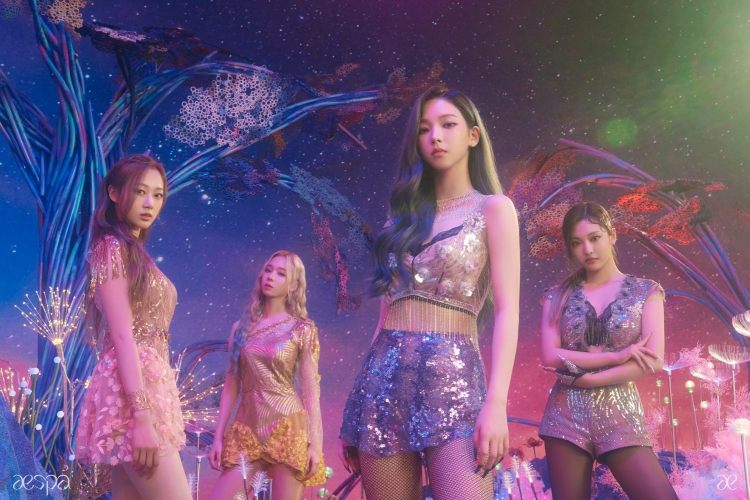 It's official, SM Entertainment's new girl group aespa will be a four-membered group - well, aside from their Vocaloid counterparts.
aespa members: Winter, Karina, Ningning, and Giselle, look dazzling in their new group teaser photos released on October 31.
The group teaser photos follow the dreamy fantasy vibe that the prior individual teasers portrayed.
As their debut draws closer, fans are hyped for SM Entertainment's newest girl group that is said to pioneer a new and innovative concept of bringing in both human and avatar members into one group.
Get to know the final members of aespa.
KARINA
Karina, whose birth name is Yoo Ji Min, is the vocalist, rapper, and dancer of the group. She was born on April 11, 2000 in Seongnam, Gyeonggi-do. Prior to debut, she was known to be an ulzzang because of her undeniably pretty face and even made an appearance in Taemin's "Want" MV. Karina trained for 4 years under SM Entertainment.
GISELLE
Giselle, born Aeri Uchinaga, is the Japanese rapper of aespa. She was born on October 30, 2000, and is the shortest member. Giselle can speak English, Korean, and of course Japanese. She was once part of a choir for four years as an alto and can play the guitar. She only trained under SM Entertainment before debut.
WINTER
Winter, or Kim Min Jeong, is the other half of aespa's Korean duo. She was born on December 30, 2001 and is said to be the vocalist and dancer of the group. Many fans say that she looks like Girls' Generation's Leader Taeyeon. Prior to debut, Winter trained for 3 to 5 years.
NINGNING
Ningning, whose real name is Ning Yizhuo, is the only Chinese member and maknae of aespa. She is born on October 23, 2002 and perhaps the most recognizable member of aespa being part of SM Rookies. Born in Harbin, China, Ningning's specialty is singing. Not only that but she can also play the piano. Prior to debut, she was a member of "Let's Sing Kids" in China and appeared on a Chinese contest program "Music Honors Student." Ningning trained under SM Entertainment for 4 years prior to debut.
Are you excited about SM's new girl group? Stay tuned for more updates!
© 2022 Korea Portal, All rights reserved. Do not reproduce without permission.