Is Former gugudan Sejeong and EXO Sehun Dating? The Truth Behind The Rumors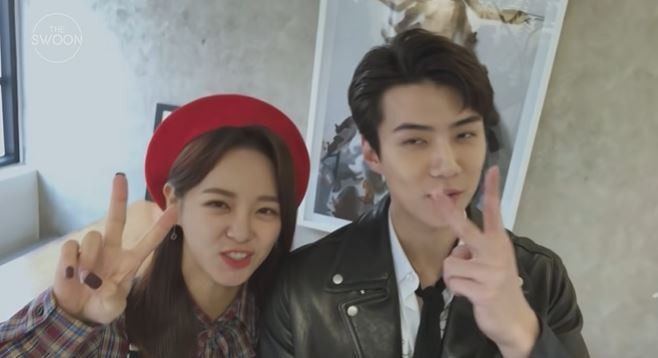 Rumors concerning former gugudan member and actress Kim Sejeong and EXO Sehun's love affair have been circulating online for some time now.
The two K-Pop stars are currently working together in a Netflix series "Busted" which is a reality show that combines crime drama with escape-room style. Together with Sejeong and Sehun on the show are Yoo Jae-Suk, Park Min-Young, Kim Jong-Min, and Ahn Jae-Wook.
Currently, "Busted" is finishing its second season. During the show, Kim Sejeong and Sehun shared amazing chemistry that made the show more fun. However, some fans are doubting the relationship between Sejeong and Sehun. As a result, fans became wary about the "closeness" that the two are sharing and began to spread rumors and hate.
In fact, Kim Sejeong herself received backlash from the fans of Sehun and suffered from malicious comments for no reason. Furthermore, the angry fans that are doubting the relationship between the two idols have left bad comments on Sejeong parent's social media accounts.
Because of the backlash, Sejeong took it upon herself to clarify the rumors and stop the hate. On January 11th, Kim Sejeong communicated with her fans through a live broadcast.
The singer-actress complained about the malicious comments that she and her parents are getting. "There are more DMs and comments than I thought. Comments are posted on the SNS of my parents. I hope you don't send bad words," Sejeong expressed.
Moreover, Kim Sejeong was cautious and explained the relationship she has with EXO Sehun. "I want to tell you not to worry," Sejeong tells her fans. "I admit that we are close, but there is no concern. I have never contacted him personally... We really only had fun filming. You don't gase to worry about it," Sejeong explained.
Meanwhile, season 3 for Netflix's "Busted" is scheduled to be released on January 22nd. It was reported that former cast member Lee Kwang Soo is set to return to the reality show this upcoming season.
© 2023 Korea Portal, All rights reserved. Do not reproduce without permission.