'The 100 Most Beautiful Faces Of 2020' Lists All BLACKPINK Members, TWICE, aespa And More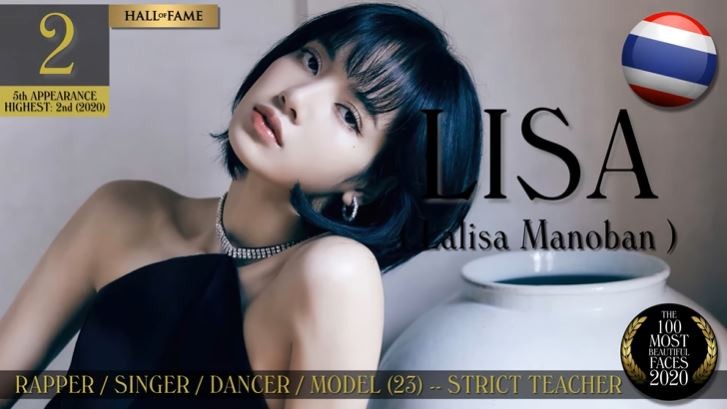 Together with the "100 Most Handsome Faces of 2020" list, TC Candler and The Independent Critics have released the "100 Most Beautiful faces of 2020."
100 Most Beautiful faces of 2020
Among the 125,000 diversely beautiful celebrities, models, singers, and social media stars from over 40 countries, 100 gorgeous women were selected to be one of "The 100 Most Beautiful Faces of 2020." This list is a representation of the "modern ideal" of worldwide beauty. The criteria for this list does not only include aesthetic perfection but also grace, originality, daringness, passion, class, poise, joy, promise, and hope that are all embodied in a beautiful face.
Who are the K-Pop goddesses included in the list?
Out of the 100 beautiful faces of 2020, some of them are our beloved K-Pop stars!
The list includes (G)-Idle's Yuqi at 98th place, as well as soloist and former IOI member Chungha. Other prominent K-pop soloists included in the list are Taeyeon (71) and Somi (58). Moreover, MAMAMOO's Solar placed 76th while CLC's Seunghee and Sorn placed 53rd and 37th, respectively. Meanwhile, Chaewon was the only IZ*ONE member included in the list at 61st.
ITZY's Chaeryoung placed 48th while APINK's Son Naeun was also listed at 46th placed. Moreover, aespa's Chinese member NingNing was the only rookie idol included in the list at 43rd, while her sunbae Seulgi from Red Velvet placed 18th on the list.
"Bon Voyage" singer and Oh My Girl member, YooA was on her third appearance on the list and placed 12th this year. Former After School and Orange Caramel member, Nana placed 8th. Nana was crowned as the "Most Beautiful Face of 2014 and 2015." She was also regarded as the "Face of the Decade 2010s" for her undeniably gorgeous face.
Meanwhile, since their debut, TWICE was never absent from the list. This year five TWICE members were included: Jihyo (79th), Chaeyoung (66th), Momo (34th), Sana (29th), and Tzuyu (4th). Last year, the youngest TWICE member, Tzuyu, was regarded by TC Candler as "The Most Beautiful Face of 2019."
On the other hand, all four BLACKPINK members were included in the most beautiful list proving the ethereal beauty of each member. The eldest BLACKPINK member, Jisoo, placed 50th while Rose, the main vocal of the group, placed 31st. Chanel's face, Jennie, was at 22nd place while the BLACKPINK's youngest and Celine's ambassador, Lisa, was regarded as the second "Most Beautiful Face of 2020."
Here's the complete list of TC Candler's "The Most Beautiful Faces of 2020:"
100 Kate Beckinsale
99 Anok Yai
98 Yuqi (Song Yu Qi)
97 Ozgu Kaya
96 Ivana Yturbe
95 Nana Okada
94 Marion Cotillard
93 Lina Qishawi
92 Maralgua Dashnyam
91 Priyanka Chopra
90 Nathalie Emmanuel
89 Chungha (Kim Chungha)
88 Tarlan Parvaneh
87 Ju Jingyi
86 Ariana Grande
85 Maudy Ayunda
84 Gulnazar
83 Janice Joostema
82 Ellie
81 Thao Nhi Le
80 Selena Gomez
79 Jihyo (Park Jihyo)
78 Valentina Sampaio
77 Jena Frumes
76 Solar (Kim Yong-sun)
75 Esra Bilgic
74 Lin Yun
73 Bettinah Tianah
72 Chloe Grace Moretz
71 Taeyeon
70 Natalie Portman
69 Ishihara Satomi
68 Angelina Danilova
67 Lily Collins
66 Chaeyoung (son Chae-young)
65 Margot Robbie
64 Dolorez Lorenzo
63 Zhu Zhu
62 Germaine
61 Chaewon (Kim Chae-won)
60 Khin Wint Wah
59 Jasmine Tookes
58 Somi (Jeon So-mi)
57 Franciny Ehlke
56 Nana Komatsu
55 Taylor Hill
54 Jassita Gurung
53 Seunghee (Oh Seung-hee)
52 Vienna Maryce
51 Golshifteh Farahani
50 Jisoo (Kim Ji-soo)
49 Moa Sandell
48 Chaeryoung (Lee Chaer-young)
47 Audreyana Michelle
46 Naeun (Son Naeun)
45 Emilia Clarke
44 Pooja Hegde
43 Ningning (Ning Yizhou)
42 Natalya Tsevelchugova
41 Urassaya Sperbund
40 karolina Pisarek
39 Dilraba Dilmurat
38 Emma Watson
37 Sorn (Chonnasorn Sajakul)
36 Lupita Nyong'o
35 Camilla Belle
34 Momo (Hirai Momo)
33 Anna De Armas
32 Jade Weber
31 Rose (Park Chae-young)
30 Sonia Ammar
29 Sana (Minatozaki Sana)
28 Dasha Taran
27 Zhou Dongyu
26 Hande Ercel
25 Yamamoto Maika
24 Kaylyn Slevin
23 Jennie Kim
22 Jourdan Dunn
21 Gal Gadot
20 Oktyabrina Maximova
19 Banita Sandhu
18 Seulgi (Kang Seul-gi)
17 Anna Van Patten
16 Lauren Tsai
15 Ella Balinska
14 Liza Soberano
13 Naomi Scott
12 YooA (Yoo Shi-ah)
11 Ivana Alawi
10 Nancy Jewel McDonie
9 Josie Lane
8 Nana (Im Jin-ah)
7 Halima Aden
6 Thylane Blondeau
5 Emma Nereng
4 Tzuyu (Chou Tzuyu)
3 Meika Woollard
2 Lisa (Lalisa Manoban)
1 Yael Shelbia
© 2023 Korea Portal, All rights reserved. Do not reproduce without permission.
Tags:
100 Most Beautiful Faces of 2020
,
Most Beautiful Faces Of 2020
,
TC Candler Most Beautiful Faces of 2020
,
Blackpink Most beautiful faces of 2020
,
K-Pop Updates
,
K-Pop Most Beautiful Faces of 2020
,
BLACKPINK
,
TWICE Most Beautiful Faces of 2020
,
TWICE
,
twice jihyo
,
Twice Tzuyu
,
TWICE Sana
,
TWICE Chaeyoung
,
TWICE Momo
,
blackpink jisoo
,
blackpink rose
,
blackpink jennie
,
blackpink lisa
,
BLACKPINK Lisa Most Beautiful Face 2020
,
Yuqi
,
(G)-IDLE
,
Chungha
,
Kim Chungha
,
Taeyeon
,
Somi
,
Chaeryoung
,
Girls' Generation
,
ITZY
,
Son Naeun
,
Apink
,
Ningning
,
aespa NingNing
,
aespa
,
Red Velvet
,
red velvet seulgi
,
YooA
,
Oh My Girl YooA
,
Nana
,
Nana Most Beautiful Face