Check Out The Top 5 Best K-Pop Idol Stages For 2020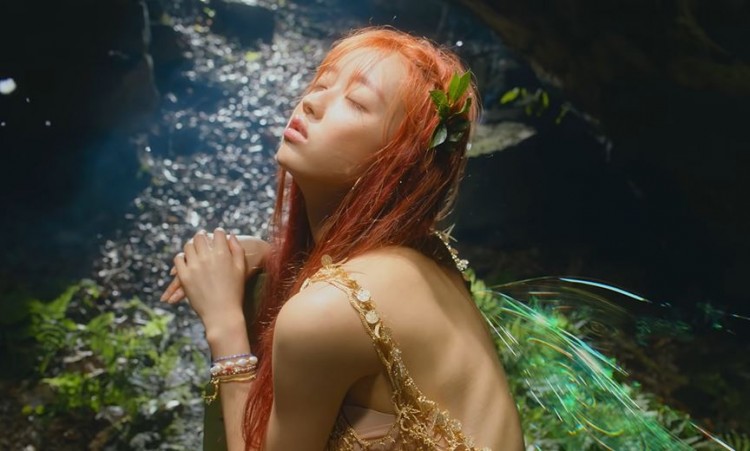 This 2020, we have witnessed numerous banger comebacks from K-Pop's most notable acts such as BTS, TWICE, BLACKPINK, Seventeen, GOT7, Stray Kids, itzy, MAMAMOO, Super Junior, and many others. Not only that, but we have also been blessed with awesome debuts such as YG Entertainment's TREASURE, SM Entertainment's aespa, and Big Hit's ENHYPEN, among others.
As the year comes to an end, it is just but appropriate to name the best of the best idol stages that have become the most memorable in 2020.
Despite the countless stages that were performed this year, GQ Korea has taken it upon themselves to choose the "Top 5 Idol Stages That Shone This 2020." Here are the five stages that dazzled the audience this 2020:
#1 "Bon Voyage" by Oh My Girl's YooA
Following the recent success of Oh My Girl, YooA made her solo debut with "Bon Voyage." The girl group member was a living fairy in a forest-themed set for her debut stage from "Music Bank." With YooA's ethereal voice, fairy-like visuals, and magical presence, surely this stage is one that should be recorded in the books. Check out her majestic performance here.
#2 "So What" by LOONA
LOONA is the girl group to be reckoned with. With their sharp but fluid choreographies and amazing stage presence, no wonder Lee Soo Man, the founder of SM Entertainment himself, is so mesmerized by their talents that he produced their two recent comebacks, "So What" and "Why Not?"
The group just exudes girl crush in their SBS's "Inkigayo" stage for "So What."
#3 "Love Me Harder" by WOODZ
People have fallen in love with WOODZ charm in his SBS's "Inkigayo" stage for "Love Me Harder." Also known as Cho Seungyoun, WOODZ's natural and free-spirited attitude on-stage has earned him a spot in the top five stages of 2020.
#4 "Pump It Up" by Golden Child
Bright energy everywhere! Golden Child's pilot-inspired outfits added the icing to the cake making their "Music Bank" stage for "Pump it Up" so refreshing and worthy of a spot in this list. This performance by the boys from Woolim Entertainment can surely lift up your spirits and make you feel good. Watch their bright performance here.
#5 "CRIMINAL" by Taemin
Last but definitely not least is the "Idol of Idols" himself, Taemin. The soloist from SM Entertainment has proven countless time already that he is a legend in the making with his subtle yet powerful moves and soothing voices that breaks the boundary between masculinity and femininity. With his captivating facial expressions and unique concept, Taemin gave fans such a memorable performance in his SBS' "Inkigayo" stage for "CRIMINAL."
© 2023 Korea Portal, All rights reserved. Do not reproduce without permission.
Tags:
Top Kpop Stages 2020
,
Top Kpop Stages
,
Taemin
,
Taemin Criminal stage
,
Taemin Criminal
,
YooA
,
Oh My Girl YooA
,
Oh My Girl YooA solo
,
Oh my Girl YooA Bon Voyage
,
YooA Bon Voyage
,
YooA Solo Debut
,
Golden Child
,
Golden Child Pump It Up
,
Loona
,
LOONA So What
,
LOONA Sm Entertainment
,
LOONA Lee Soo Man
,
LOONA News
,
LOONA Comeback
,
WOODZ
,
WOODZ Love Me Harder