EXO Baekhyun Solo Debut +Chanyeol & Sehun Unit Debut: Everything To Know About Their Comeback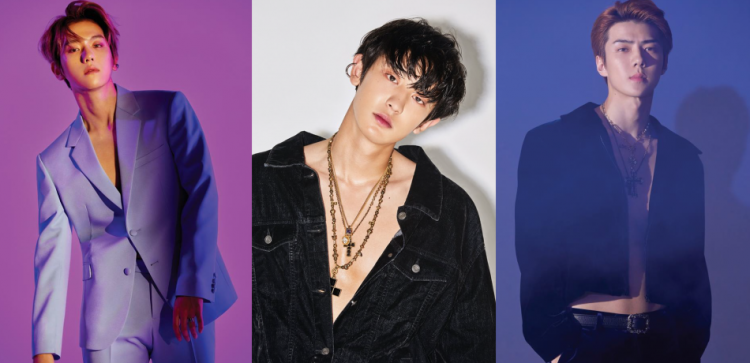 EXO members Baekhyun, Chanyeol, and Sehun are all set to make their comeback next month. Baekhyun will be having his solo debut while Sehun and Chanyeol will introduce a new subunit of EXO.
Baekhyun has dropped a teaser image for his upcoming album, City Lights. It is a black and white image of Baekhyun turned away from the camera while sporting an oversized jacket. A mysterious text that extends below his jacket can also be noticed in the photo.
The mini-album contains six songs and it will be released on July 10. Reports indicate that Baekhyun collaborated with rapper Beenzin in one song in his solo album.
Pre-orders for Baekhyun's EP started on June 20 at 6 PM KST. It quickly took the No. 1 spot on several pre-order sites.
The EXO vocalist recently launched his own YouTube channel which already reached 1.6 million subscribers. Baekhyun is one of the members of EXO-CBX along with Chen and Xiumin.
Baekhyun will be the third member of EXO to debut as a soloist following Lay and Chen. Lay released his first solo album in October 2016. Chen released his album, April, And A Flower, in April.
Chanyeol and Sehun, on the other hand, will be introduced as members of new EXO sub-unit in July. SM Entertainment has yet to make an announcement about the name of the subunit and the exact date of their debut.
In an interview with W Korea magazine, Chanyeol and Sehun shared their thoughts about their upcoming debut as a unit. According to Chanyeol, he worked harder for their upcoming album than he ever had since EXO debut. As for Sehun, he is confident that their new album will appeal not only to their fans but to the general public as well.
This is not the first time the two work together without the other members of EXO. They previously collaborated for a track, "We Young," for SM Station.
Meanwhile, EXO members Suho and Kai have met with Stranger Things actor Caleb McLaughlin and Gaten Matarazzo in Korea. The two American young actors are in Korea to promote the upcoming season of their Netflix TV series.
Suho and Kai attended the Stranger Things Season 3 event in Korea. They also accompany McLaughlin and Matarazzo when they visit the Gyeongbokgung Palace.
© 2021 Korea Portal, All rights reserved. Do not reproduce without permission.