'Outlander' Season 5 Spoilers: Series EP Teases Jamie Will Make Hard Decision About Murtagh In Upcoming Season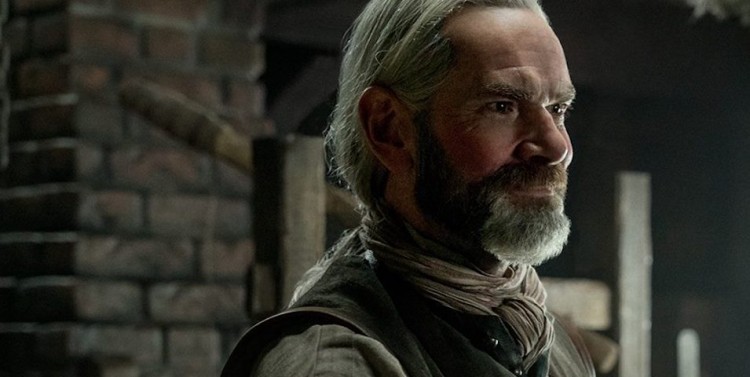 There are few more months before Outlander fans would know what will happen to Murtagh in Season 5. Executive producer Matthew B. Roberts has teased that Jamie will be put in a very difficult position in the upcoming season because of his godfather and he will eventually have to decide to whom he will still loyal.
Having Murtagh (Duncan Lacroix) in Season 5 is already a huge departure from Diana Gabaldon's novel series. Giving him a major plotline in the upcoming season is even more challenging for the creative team.
Roberts admitted that keeping Murtagh alive in the TV adaptation is a challenge since he already dead in the book. But he admitted that was a great idea to bring the character back in the story to give Claire (Caitriona Balfe) and Jamie (Sam Heughan) someone they love and trust to talk to.
Roberts also assured that everyone in the production is up for a challenge to deliver a great Murtagh storyline. In the upcoming Season 5, he hinted that Jamie will be torn between his responsibility to Governor Tyron (Tim Downie) and his love and loyalty to Murtagh.
"Let's just say Jamie is clearly between a rock and a hard place, the rock being his signed oath to the Crown, to Governor Tryon, for the land that they live on, and his loyalty and his love for Murtagh. So, that is going to cause the Frasers some trouble as we go forward in season five and we'll see how they get out of it or if they get out of it," Roberts told Parade.com.
The Outlander producer admitted that since Murtagh's story will be squeeze into Season 5, there will be some moments in Gabaldon's fifth book, Fiery Cross, that will never make it into the small screen. The showrunner assured fans that they are doing their best to bring all important scenes in Fiery Cross to the 12-episode Season 5.
Outlander Season 5 is expected to pick up on the Redcoats hunt of the Regulators leader Murtagh. It can be recalled that in Season 4 finale, Jamie received a letter from Governor Tryon ordering him to form a militia that will take down the Regulators and hunt down its leader Murtagh.
Outlander Season 5 is currently in production in Scotland. It is expected to premiere in the fall. Aside from Heughan, Balfe, and Lacroix, other cast members that are expected to return in Season 5 are Sophie Skelton (Brianna), Richard Rankin (Roger), César Domboy (Fergus), and Maria Doyle Kennedy (Aunt Jocasta).
© 2023 Korea Portal, All rights reserved. Do not reproduce without permission.