Super Junior 2019 Comeback Confirmed With 9 Members; Kangin & Sungmin Will Not Join Comeback Following Fans Threat To Boycott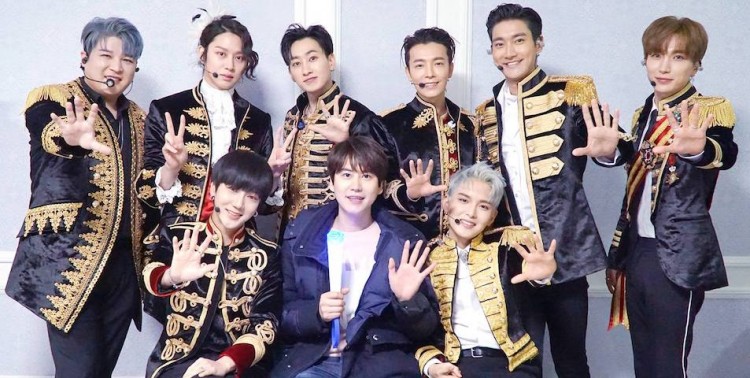 Super Junior is set to make a full group comeback in the latter part of the year but only nine members will be joining in. The K-pop group's agency Label SJ has confirmed that members Kangin and Sungmin will be seating this one out.
Super Junior fans, also called ELFs or Everlasting Friends, could watch their favorite group back on stage as all members have already finished their military service. But the group will not be complete.
Label SJ has released a statement that confirmed Kangin and Sungmin will not be taking part in Super Junior's ninth album. According to the agency, only Leeteuk, Heechul, Yesung, Shindong, Siwon, Eunhyuk, Donghae, Ryeowook, and Kyuhyun will participate in the upcoming album. As for Kangin and Sungmin, they will meet their fans through other activities.
The Label SJ's decision came after ELFs threaten to boycott the Super Junior highly-anticipated comeback if Kangin and Sungmin will not be kicked out of the group. Koreaboo reported that some fans asked their fellow SJ stans to boycott everything related to Super Junior including listening to the group songs, sharing anything about the group on social media, purchasing their merchandise, and more if the two will participate in the upcoming LP.
The Super Junior fans are protesting the inclusion of the two to the group's comeback because of the controversies they got involved with in the past. It can be recalled that Sungmin was heavily criticized in late 2014 for mishandling the announcement of his marriage to musical actress Kim Sa Eun.
As for Kangin, he has been found guilty of multiple hit and runs while under the influence of alcohol. He also got arrested for physically assaulting his girlfriend.
Following the label's announcement, fans began circulating the hashtag, #Criminal_Kangin_FanDeceiving_Sungmin_PermanentRemoval. They demand the label to officially remove the two from the group instead of placing them on hiatus from promotions.
Meanwhile, Super Junior is set to have their first ever concert in Saudi Arabia at the Al Johara stadium on July 12 and 13. Based on the promotional photo for the event, only nine members of the K-pop group will be joining the event.
Super Junior debuted in 2005 under SM Entertainment. They have 13 members with Zhou Mi and Henry as part of its sub-unit, Super Junior-M. Among their hits songs are "Sorry Sorry," "Mr. Simple," "Bonamana," "Black Suit," and "Mamacita." SJ released their latest hit "Lo Siento" in 2018.
© 2019 Korea Portal, All rights reserved. Do not reproduce without permission.