Super Junior Hopes For 13-Member Reunion, Repackaged Album To Release Next Month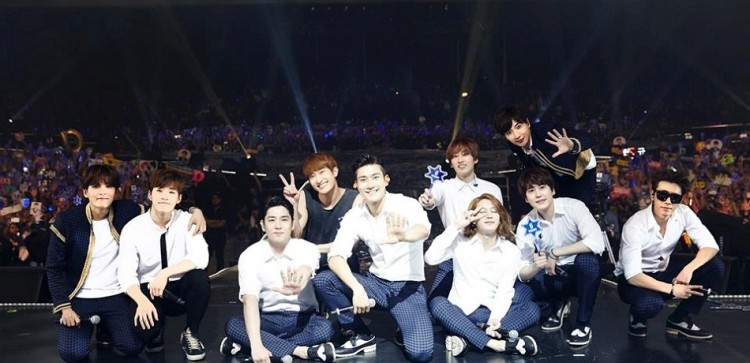 It has been almost nine years since all 13 original members of Super Junior were seen on stage together. Members Leeteuk, Eunhyuk, and Donghae have revealed their hopes for the group to have a reunion someday.
The three have shared their views about the Super Junior being promoted as 7 members even though they are 11 in the group. The last time they were complete on stage was during their 2019 performance of "Sorry, Sorry." At the time, they were still 13 men on stage.
"In front of the TV in my house, there's a photo of the 13-member Super Junior. I watched the H.O.T special on 'Infinity Challenge' recently, and that photo kept coming in view. I am wondering if we'll be able to have a reunion stage with the 13 members sometime in the future. We were 13 members when we sang 'Sorry, Sorry' in 2009," Leeteuk said.
Leeteuk also recalled the last time all of them had a private get together. He said it was in a Chinese restaurant before he was enlisted in the military in 2012.
Super Junior Reunion in 2019
Currently, the group has a total of 11 members, but only seven are active. Ryeowook and Kyuhyun are serving their mandatory military service at the moment. Kangin is on hiatus after he got involved in controversies, while Sungmin decided not to participate in Super Junior's activities.
Leeteuk is optimistic that all members of the K-pop band will be reunited on stage in 2019. Eunhyuk agreed with Leeteuk. He is confident that the much-awaited Super Junior reunion is happening next year. By the time, both Ryeowook and Kyuhyun are already discharged from the military.
Super Junior debuted in 2005. They are the first Korean boy band that has more than ten members. At the time, K-pop is still breaking into the international music scene. The 13-man band became 11 by the end of 2009 after Kibum left the group to pursue a solo career. Hangeng, on the other hand, filed for termination of contract from SM Entertainment after claiming that the provisions of his contract were harsh and violate his rights.
Meanwhile, the K-pop band is set to release their repackaged album next month. The "Mr. Simple" singers have added that they also prepare a new music video for that. Super Junior dropped their most recent album, Play, in November 2017. The band has produced nine Korean studio albums and one Japanese LP so far.
© 2023 Korea Portal, All rights reserved. Do not reproduce without permission.