'The Big Bang Theory' Series Finale Spoilers: Kaley Cuoco Warns Viewers It's Going To Be Very Emotional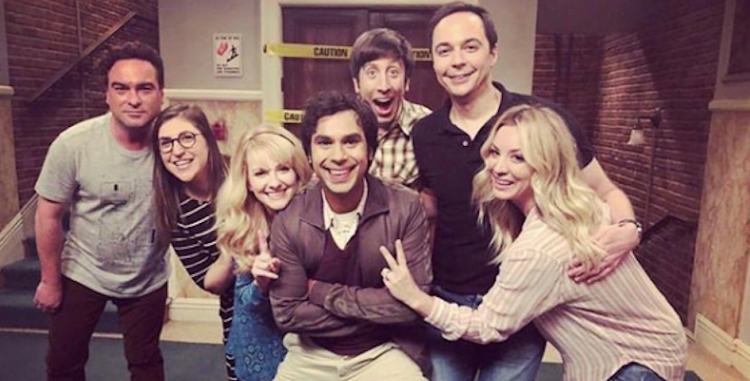 The cast of The Big Bang Theory will take their final bow next month and lead actress Kaley Cuoco has warned viewers to be prepared for their final episode. The actress has suggested on her recent Instagram posts that TBBT series finale episode is not going to be easy to watch.
Cuoco along with her co-stars had their final table read for the last ever episode of the CBS longest-running sitcom. Cuoco, who plays Penny in the series, shared on Instagram a series of photos during the table read.
The first snap shows a script which reads, "End of series" across the front. Another photo showed Cuoco clutching a script in her arms as she cries while the third picture is a script that is covered with tissue. In the caption, she issued a warning that it is going to be a very emotional episode.
"Prepare yourselves...for a finale that has truly given me a loss for words ️ Our whole universe," she wrote.
Kaley Cuoco is not the only one who is tearing up during their table read. Johnny Galecki (Leonard) also shared a photo of him crying after the event. "This morning was not an easy one. The final table reading for @bigbangtheory_cbs So very sad. So very grateful," he captioned the photo.
Melissa Rauch (Bernadette) also posted a photo of her and her co-stars while having a group hug. Prior to the read, Rauch also shared a group shot of their cast, writers, and other staff in which she paid tribute to the group of "geniuses" whom she called the heart and soul of the show.
Mayim Bialik (Amy), on the other hand, shared a picture of her with Rauch. Bialik remembered the time she and Rauch started as newcomers in TBBT Season 3.
Executive producers Eric Kaplan earlier hinted that the final episode of The Big Bang Theory is going to be both surprising and emotionally satisfying to viewers. Cuoco also earlier revealed that the final episode will break the norm as it will be pre-shoot because it is a very emotional episode. She said the audience will still present while the cast members deliver their lines but it will be filmed beforehand.
The Big Bang Theory series finale is set to air on May 16. There are three more episodes left before the finale episode. A brand new episode, titled "The Decision Reverberation," airs on April 25 at 8 p.m. on CBS.
In this week's episode, Raj (Kunal Nayyar) is worried that people won't take him seriously in his own field of astrophysics after publishing a paper that suggests he may have discovered alien life. Leonard wants to be the principal investigator on a plasma physics study and his wife, Penny, to stand up for what he wants.
© 2023 Korea Portal, All rights reserved. Do not reproduce without permission.