'NCIS: Los Angeles' Season 10 To Bring In A Beloved 'JAG' Alum; Interaction With Hetty Is Expected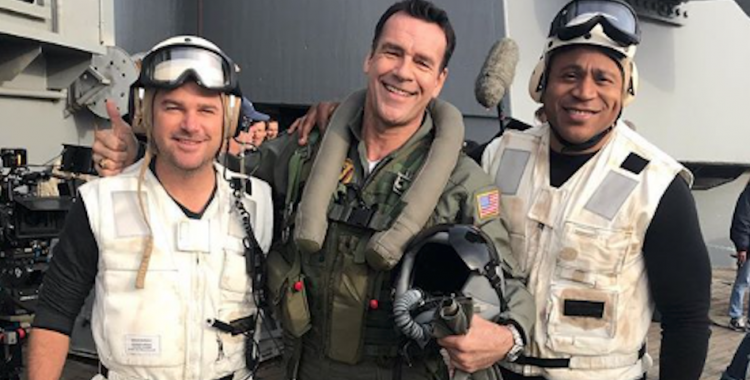 Actor David James Elliott is ready to slide on Navy suit once again as he is set to reprise his iconic JAG character in NCIS: Los Angeles. Elliot will appear as Navy Captain Harmon Rabb Jr. in a multi-episode arc on NCIS: Los Angeles Season 10.
The hit series NCIS and its spin-offs NCIS: Los Angeles and NCIS: New Orleans spawned from the CBS military drama JAG. Elliott was the lead star of the series along with Catherine Bell as Major Sarah "Mac" MacKenzie. The series ran for 10 seasons from 1995 to 2005.
Captain Rabb will make his debut in the May 12 episode of NCIS: Los Angeles, titled "The Guardian." In the episode, the team uncovers some ISIS sympathizers who are planning an attack on US aircraft carriers. The threat will result in Callen (Chris O'Donnell) and Sam (LL Cool J) working directly with Rabb, the XO Captain on the USS Intrepid. Elliott also shared on Instagram a photo of him with O'Donnell and LL Cool J.
Elliott's appearance in NCIS LA is also his reunion with JAG writer-producer and now NCIS: Los Angeles executive producer R. Scott Gemmill. He expressed excitement on working again with Elliott.
"Bringing Harmon Rabb to work with NCIS: Los Angeles makes for a formidable coalition, and both entities are going to need all the help they can get when confronted with the greatest challenge of their careers," Gemmill said.
Captain Rabb's appearance in NCIS LA will also finally end fans speculations about the cliff-hanging ending of JAG about 14 years ago. It can be recalled that in the series finale, Harmon and Mac flip a coin to see which one of them would retire from their Navy commission so that they could be together. It was never revealed who step down.
Rabb in the USS Intrepid would only mean that Mac is the one who resigned from the Navy. Although Mac would not appear in NCIS LA, many fans of JAG are expecting that her name would be mentioned in the episode.
It is also interesting to see if Rabb will be using his knowledge of military laws in the NCIS: Los Angeles episodes. The Navy Captain is not only a skilled naval-aviation officer but also an ace lawyer.
Moreover, interaction with Hetty (Linda Hunt) is also an interesting sight for fans. Since both Hetty and Rabb have a long work history in the Navy, it is likely that they have crossed path in the past.
Hetty is set to reclaim her post in the upcoming episode of NCIS: Los Angeles Season 10 Episode 20. The episode is set to air on April 14.
NCIS LA will only have 24 episodes this season. If there will be no more interruption on the series broadcast schedule and Elliott's multi-episode arc appearance will start on May 12, it could be in the season finale. This means the actor's appearance might spill over in Season 11 pilot episode.
Another possibility is that NCIS: Los Angeles will have another break between the April 14 and May 12 episodes. If that is the case, Elliott will be in the last two episodes of the season which will air starting on May 12.
© 2023 Korea Portal, All rights reserved. Do not reproduce without permission.