'NCIS: Los Angeles' Season 10 Episode 20 Spoilers: Hetty Is Officially Coming Back; Exclusive Glimpse Of Linda Hunt On Set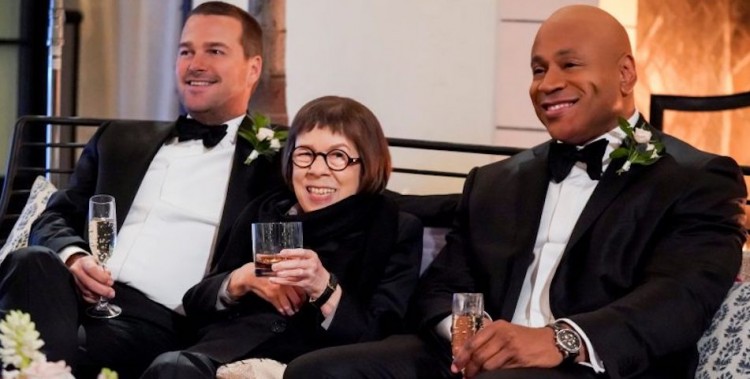 Henrietta Lange is finally coming back. The formidable head of the NCIS LA headquarters will officially return in April. Hetty will be seen again in the series starting in the upcoming NCIS: Los Angeles Season 10 Episode 20.
Parade.com has shared the first glimpse of Hetty in the upcoming episode. The two photos showed Hetty sitting at Special Prosecutor John Rogers' (Peter Jacobson) office. One of the images also showed she is talking to Eric Beale (Barrett Foa).
It looks like Rogers will be out in the last four episodes Season 10 as his name is no longer in the guest stars list for Episode 20. It can be recalled that in the previous episode, Rogers conducted a mandatory performance review on all NCIS LA operatives. In the upcoming Episode 19, Rogers will continue with the review before giving his final verdict.
Rogers could be wrapping up his responsibilities at the NCIS LA office in Episode 19 and will hand over the job of overseeing the team with Hetty. The NCIS LA operations manager was first seen this season during Kensi (Daniela Ruah) and Deeks' (Eric Christian Olsen) wedding on March 17 episode but she hasn't been around in the previous episode.
Hunt got sidelined almost in the entire 10th season due to a car accident she got involved in back in July 2018. The veteran accident asked her fans to wait for her return as she needs to recover from the minor injuries that she sustained from the accident.
In the upcoming NCIS: Los Angeles Season 10 Episode 20, titled "Choke Point," the team will investigate an assault case on a Navy Seal who got attacked while moonlighting at a security job for a marijuana dispensary. Agent Sam Hanna (LL Cool J) will get personally attach on the case. He is determined to catch the suspect out of respect for the Navy Seal brotherhood.
Apparently, Hetty will also help Nell (Renée Felice Smith) with some issues about her mother in this episode. It is also expected that Hetty will share a little information about her whereabouts during her long absence in NCIS LA operation. Agent G. Callen asked Hetty about it during the Densi wedding but the latter refused to divulge any details, telling her agent "some things are better left unshared."
NCIS: Los Angeles Season 10 episode 10 is slated to air on April 14 at 9 p.m. on CBS. Before that, the team will first help DOJ in locating a former U.S. border patrol tactical officer who disappeared following a threat by the cartel in Episode 19 on March 31.
© 2023 Korea Portal, All rights reserved. Do not reproduce without permission.