BTS To Perform On 'Saturday Night Live' On April 13; ARMY Excited To Watch The Group With K-Pop Fan Emma Stone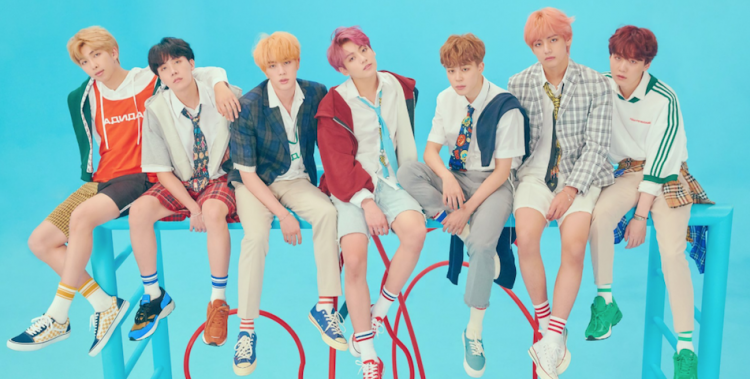 It looks like BTS will be having a U.S. TV show tour again once they released their new album, Map of the Soul: Persona. To start off, the K-pop group will be on Saturday Night Live on April 13.
BTS is scheduled to drop their new album Map of the Soul: Persona on April 12. It is a follow up to their massively successful Love Yourself trilogy. Then on April 13, BTS will be hitting the stage of SNL to perform most likely the title track of the album. This will also mark as the group's debut on the NBC show.
Saturday Night Live has confirmed the lineup of guests for March 30, April 6, and April 13 on its official Twitter account. Jin, Suga, J-Hope, RM, Jimin, V, and Jungkook will be on the show on April 13 along with Oscar-winning actress Emma Stone who will be the host for the night. This is the fourth time that the La La Land star will host SNL.
Stone is known to be a K-pop fan. In an appearance on Conan in 2015, she admitted that she loves K-pop and confessed that she likes girl groups 2NE1 and Girls Generation.
"It's a global phenomenon... It's beyond excellent. It's the best thing you've ever seen... I don't even know how to describe it, it is also addictive. Very addictive," she told host Conan O'Brien at the time.
It will be interesting to see how Stone and BTS will interact with each other. Many fans are also looking forward to some sort of sketch where the actress and the K-pop group could interact hilariously. After BTS's performance at SNL, she might also stan the group.
An appearance on SNL doesn't only mean ticking another box of American shows that they have been into. Most importantly, it is a huge opportunity for BTS to showcase their live performance, not to mention SNL is one of the most famous late-night sketch shows in America and only features the hottest celebrities.
"Landing SNL is a major opportunity typically given to artists who are either eyed by its bookers in line to be a "next big thing" as well as musicians who can master the live stage," Forbes noted.
Meanwhile, BTS ARMY has shared their excitement over the group's SNL appearance. Many have begun using the hashtag "BTSxSNL" which also quickly became a trending topic worldwide. Some are also expecting that since BTS will be in the US during the release of their new album, they might also appear in more TV shows.
*casually leaves this here* pic.twitter.com/OMqDpKQlbD — Saturday Night Live - SNL (@nbcsnl) March 13, 2019
© 2019 Korea Portal, All rights reserved. Do not reproduce without permission.