BTS's Jin & Big Hit Entertainment's Soloist Lee Hyun's Twitter Exchange That Freaks Out ARMY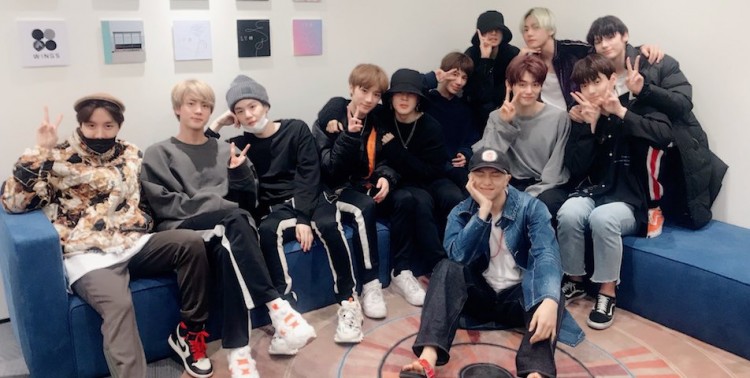 Big Hit Entertainment artists know exactly what their fans have been waiting for the longest time: a family concert. It could be happening after the artists themselves hint their willingness to do it.
Big Hit has shared the very first photo of its two boy groups, BTS and TXT. Following TXT's (Tomorrow X Together) debut at the M Countdown this week where they performed "Crown" and "Blue Orangeade," the label posted a photo of the rookie group along with the seven members of Bangtan Boys.
The photo was taken at that Big Hit office as covers of some of BTS's album are on display in its wall. It seems like the image was also taken before or after the groups' practice as all of them are dressed casually.
As soon as the photo was shared on TXT's official Twitter account, Big Hit soloist Lee Hyun shared his thoughts about it. He tweeted his wish to see all of the company's artists in a concert.
"It's good to see such a handsome moment. They're my cute juniors. I wish there was a Big Hit concert," he said.
This quickly received positive reactions from fans who are hoping the same thing. Many said since Big Hit family is getting bigger, they can now hold a family concert on their own like what other entertainment labels are doing.
But things get more exciting when BTS member Jin jumped in and responded to Lee Hyun's post. Although he just said, "Hmm..." in his response, ARMYs are already freaking out as it suggests that Jin is thinking that a Big Hit family concert is actually not a bad idea. ARMY begged to the CEO of "Jin Hit Entertainment" to make the concert happen as many said tickets for this concert will definitely going sold out fast as well.
For now, the possibility of a Big Hit concert this year is a little unlikely. Everyone knows that BTS's schedule is packed with world tours aside from they are also preparing for their comeback album.
As for TXT, the group is expected to do a lot of activities to promote their debut album. The group aims to have Rookie of the Year awards this year so is expected that they will work hard to achieve it.
Meanwhile, BTS is set to resume their Love Yourself concert tour in Hong Kong on March 20. The "Idol" hitmakers will perform in a four-night concert in AsiaWorld-Expo Area from March 20 to 24 before concluding the tour in Bangkok, Thailand on April 6 and 7.
흠.. -진

— 방탄소년단 (@BTS_twt) March 7, 2019
© 2020 Korea Portal, All rights reserved. Do not reproduce without permission.