BTS Receives Gift From Author Paulo Coelho & Calls The K-Pop Group "Great"; Similarities Of Bangtan Boys & Coelho Revealed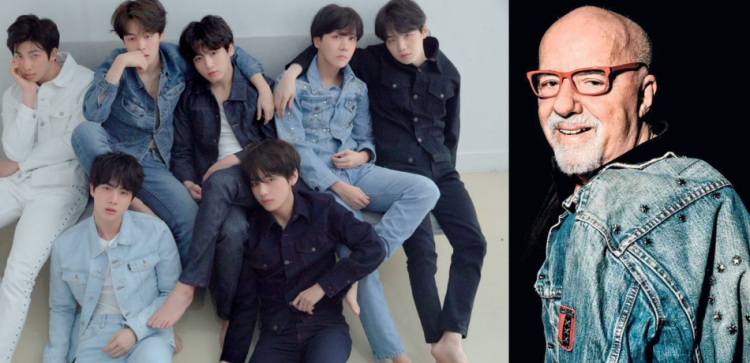 BTS has recruited another famous celebrity to their influential ARMY: world-renowned Brazilian novelist Paulo Coelho. The author's latest book, titled Hippie, will be on the hands of each member of BTS very soon.
Coelho has revealed in his latest tweet that he asked his Korean publisher to send copies of Hippie to the BTS members. BTS would not only get their own copy (probably even signed by Coelho) of Hippie, the author also praised the group and called them "great."
"Munhakdongne, my Korean publisher, is sending my new book HIPPIE to all the members of @BTS_twt band. You are great!" Coelho tweeted.
Although the author did not say how the Bangtan Boys caught his attention, many speculate that it could be because the members love for literature that reflects on their songs and music videos. It is interesting to note that Coelho is not only an author but he is also a lyricist and songwriter, much like most members of BTS.
There are other similarities between BTS and Coelho that are now being brought to light. Coelho is best known for his thought-provoking and allegorical novels. The most famous of all is the best-selling novel The Alchemist. BTS, on the other hand, has been incorporating symbols and metaphors not only on their songs but also in their music videos.
The most notable of all is the 1919 novel Demian by Hermann Hesse. The novel's influence is noticeable in BTS's "Blood, Sweat, & Tears" and in WINGS album comeback trailer, "Boy Meets Evil".
The word "Omelas" is also seen in the band's award-winning song "Spring Day." Many believe that the child that lives in misery in the 1973 short story The Ones Who Walk Away From Omelas by Ursula K. Le Guin is Jungkook in "Spring Day" MV.
In the book Hippie, Coelho relives the dream of his generation that longed for peace and challenges the authoritarian politics, conservative behavior, excessive consumerism, and an unbalanced wealth and power in the society. This could be the reason why Coelho has chosen Hippie as a gift for BTS. The "Idol" hitmakers have been known for tackling social topics that they deem relevant even in a conservative society such as mental health, the struggles of the youth, and more.
Many fans have also noticed the font similarity of the title Hippie in the book cover of Coelho's work to J-Hope's mixtape cover Hope World. The BTS member first mixtape was dropped in Mach 2018 while Hippie was published in April 2018.
This makes some ARMY believe that the K-pop idols and Coelho are somewhat connected even then. Some also hope that BTS will make reference to Hippie or other Coelho famous quotes on the band's upcoming masterpieces.
© 2019 Korea Portal, All rights reserved. Do not reproduce without permission.