'NCIS: Los Angeles' Season 10 Densi Wedding Spoilers: Deeks Is Having Cold Feet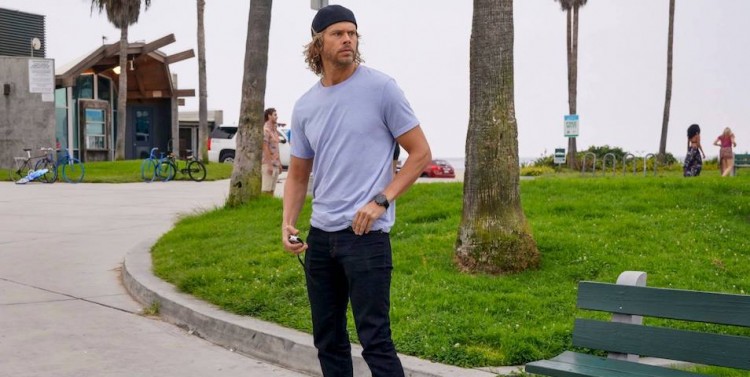 Agent Kensi Blye is all set for her big wedding but it looks like her soon-to-be-husband is not. In a sneak peek for the upcoming Densi wedding, Agent Sam Hanna will scold Deeks for acting weird on the day of his wedding.
After years of being together and months of wedding planning, Kensi (Daniela Ruah) and Deek (Eric Christian Olsen) will finally exchange "I do" on Sunday. The much-anticipated nuptials is happening in NCIS: Los Angeles Season 10 Episode 17, titled "Till Death Do Us Part."
However, like in any other wedding, there is always a hiccup. In this wedding, it is Deeks getting some problem wrapping his head around the fact that he will soon be Kensi's husband.
The LAPD Liason Officer for NCIS will sneak into Sam's (LL Cool J) boat at 2 in the morning of his wedding day. Fortunately, SEAL-trained Sam did not shot Deeks thinking that he could be an intruder. When Sam asks him what is he doing in his place, it appears that Deeks needs a place to think.
"I know I love her and I wanna marry her and I wanna be with her. But all of a sudden, I just like... suddenly I just like...," Deeks tells Sam.
"Please don't tell me you're having cold feet," Sam asks him.
"No. No, I am not having cold feet. Apparently, a cold... like abdominal... Am I supposed to be doing this?" he asks Sam.
So why is Deeks having cold feet about marrying Kensi all of a sudden? Apparently, he will realize that he had "conned" Kensi of loving him. Deeks is having some crazy thoughts that maybe there is someone better for Kensi that him.
"It's really wonderful and beautiful. One of my favorite things about Deeks is he's human first, and that's such a human reaction. That's the beauty of how [showrunner R. Scott Gemmill] wrote this," Olsen told TVLine.
In this scene, it is expected that Sam will put some senses on Deeks. The senior NCIS agent could bring up his own experience on his wedding day with his late wife, Michelle.
Meanwhile, it is still unclear if Hetty (Linda Hunt) will return during the wedding. The NCIS LA operations manager was not seen in the teaser for Episode 17 hence it is hard to tell if she is one of the guests in the event.
In November 2018, Hunt assured the fans that she will return later this season. The veteran actress said she just needs more time to recover from the car crash that she got involved in last summer.
Many fans of the series are crossing their fingers that Hetty will show up at the wedding especially since the event will have some unwanted visitors. One of which is Anatoli Kirkin (Ravil Isyanov) who has ties with Russian organized crime.
NCIS LA viewers have known that when it is anything about Russia, Hetty is their go-to person. The Densi wedding will air on March 17 at 9 p.m. ET on CBS.
© 2020 Korea Portal, All rights reserved. Do not reproduce without permission.