'Outlander' Season 5 Update: Sam Heughan Assures Fans Will Not Get Disappointed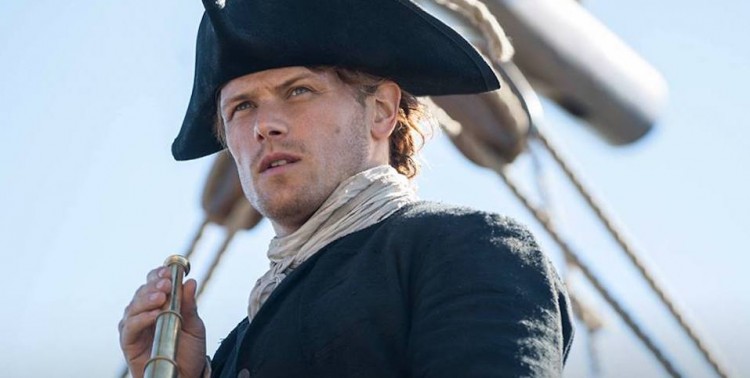 Outlander star Sam Heughan has given fans something to celebrate. The actor has assured fans they will never get disappointed in the upcoming Outlander Season 5.
Heughan (Jamie Fraser) revealed that he had read the script for several episodes of Season 5 and teased that it is going to be an incredible installment. In his latest Twitter post, the Scottish actor said fans will not get disappointed of Season 5.
Outlander fans have known by now that Heughan and co-lead star Caitriona Balfe (Claire Fraser) have more knowledge about how the TV series will move forward since both of them are now producers of the show. This means Heughan and Balfe now have a say on the production of the series and more involved in its creative aspect. In effect, whatever Heughan said about Outlander Season 5 must be also true.
"...#Droughtlander UPDATE. Have read several scripts for S5! You won't be disappointed! Can't wait to get started!," he wrote on Twitter along with a GIF of excited Murtagh (Duncan Lacroix).
Although it is not clear on which particular storyline in Season 5 that fans won't get upset about, many have already their theories. Some guess that Heughan could be talking about the steamy scenes between Claire and Jamie in the upcoming season.
It can be recalled that some fans of the Starz's historical time travel drama have pointed out the unsatisfactory number of intimate scenes between Jamie and Claire in Season 4. Series co-executive producer Maril Davis had already addressed the concern.
She explained that every special moment between the Fraser couple has come out naturally in the story. Davis stressed that they can't force a scene to the story and to the actors if it is not necessary.
Davis has also hinted that the steamy scenes between the two lead characters might return in Season 5. This might be what Heughan is also referring in his tweet. The actor could also be talking about the twists and turns that viewers may not expect in Season 5.
The actor previously said that Outlander Season 5 will be tough for the Fraser family. Aside from the looming American Revolution, Jamie will also have to deal with Governor Tryon's order to create a militia that will fight the rebellious Regulators, and hunt down and execute its leader, Murtagh.
Clearly, Jamie will be caught in a very difficult situation in the fifth season. Balfe has revealed that this will have a huge impact on the Fraser family.
The production of the fifth installment has commenced last month in Glasgow, Scotland. Outlander Season 5 is expected to premiere in fall.
....#Droughtlander UPDATE

Have read several scripts for S5!

You won't be disappointed! Can't wait to get started! ️ @Outlander_STARZ pic.twitter.com/uzlvVMd3uQ — Sam Heughan (@SamHeughan) March 6, 2019
© 2023 Korea Portal, All rights reserved. Do not reproduce without permission.