'Outlander' Showrunner Teases Jamie & Claire Sex Scenes Will Return In Season 5; Explains Why There Were Few In Season 4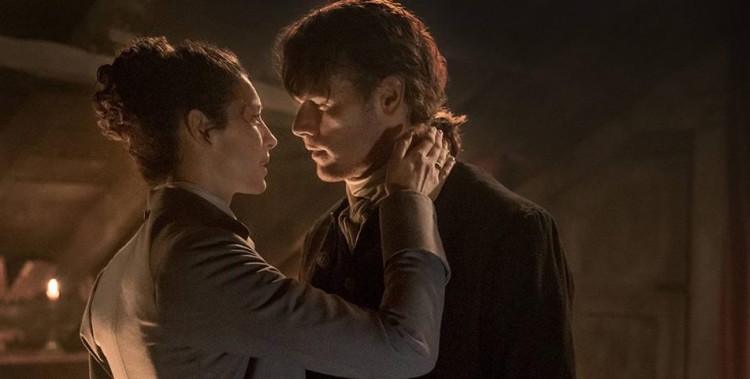 Some Outlander fans have been disappointed that Jamie and Claire have lesser steamy sex scenes in the previous season. Series co-executive producer Maril Davis has an explanation for that as she also teased that the intimate moments between the Fraser couple might return in Season 5.
Many Outlander fans have been familiar in Jamie (Sam Heughan) and Claire's (Caitriona Balfe) steamy scenes. In the first three seasons, there were plenty of those. However, it is noticeably fewer in the recent Season 4.
Davis explained that every season of Outlander is different and they can't recreate the pilot season because it has a unique story of its own. She admitted that they do love to include special moments between Jamie and Claire but it has come out naturally in the story like in Season 1. She explained that they can't force a scene to the story and to the actors if it is not necessary.
Davis added that they are very much aware of what the fans would want as they also know that the Fraser couple in the heart and soul of the series. She said, however, that they also introduced new characters in Season 4. Davis stressed these characters' stories are also vital to the story and have to be told as well.
Despite the unsatisfactory number of sexy scenes between Jamie and Claire in the previous season, Davis has good news to fans. She hinted that the steamy scenes between the two lead characters might return in the next installment.
"I do anticipate a return, hopefully, to that next season a little more," she told Glamour.
Meanwhile, Caitriona Balfe has confirmed during the Starz panel at the TCA Winter Press Tour that Outlander Season 5 will commence filming next week in Glasgow, Scotland. The actress also teased that fans will also see an older Claire in the upcoming season.
As viewers have seen at the finale of Season 4, Claire, as well as Jamie, will be taking several roles in the fifth season: as spouses to each other, as parents to Brianna (Sophie Skelton), and as grandparents to Bree's child. Balfe added that Season 5 will all about family, loyalty, and politics.
It can be recalled that towards the end of Season 4, Jamie receives an order from Governor Tyron to lead a militia and to capture and execute the leader of the Regulators, Murtagh Fitzgibbons (Duncan Lacroix). Regardless of how Jamie takes the governor's order, it will surely affect his growing family.
© 2023 Korea Portal, All rights reserved. Do not reproduce without permission.