'NCIS: Los Angeles' Drops First Photos From The Upcoming Densi Wedding & Fans Get Emotional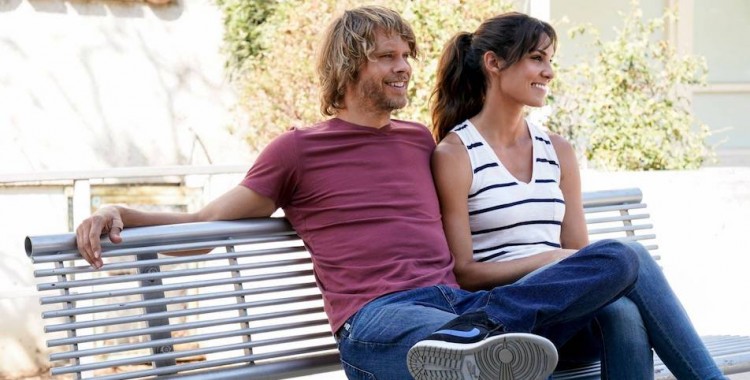 The long wait for the Densi wedding will be finally over. Kensi and Densi are100 percent certain to tie the knot next month in NCIS: Los Angeles Season 10 Episode 17. As proof, several photos of the upcoming nuptials have been released and some fans can no longer contain their emotions for the couple's wedding.
In the photos, the soon-to-be Mrs. Deeks in seen radiantly glowing in her white bridal gown. Deeks (Eric Christian Olsen), on the other hand, is handsome as always in his navy blue suit.
TV Insider also shared some photos of NCIS agents G. Callen (Chris O'Donnell) and Sam Hanna (LL Cool J) and analysts Nell (Renée Felice Smith) and Eric (Barrett Foa). Deeks' mother, Roberta (Pamela Reed), and Kensi's bridesmaid are also seen in some images.
By the looks of it, the wedding ceremony will be held at the NCIS Los Angeles HQ courtyard. The area is decorated with some water fountains that are filled with pastel-colored flowers which also matches with Kensi's (Daniella Ruah) wedding bouquet.
Another picture from the wedding reception features the cocktail that the couple is serving for their guests. The cocktail that is aptly named as "Sunshine & Gunpowder" is made up of fresh orange juice, silver Tequila, and black pepper. It is shaken and served with ice and orange slice.
The concoction could be a creation of Deeks' mother. NCIS: Los Angeles showrunner R. Scott Gemmill earlier teased that Kensi and Deeks' wedding will "smells like sunshine and gunpowder."
"A meme that developed between Kensi and Deeks, where he said she smells like sunshine and gunpowder. Their wedding will be a perfect example of that," Gemmill told Entertainment Weekly.
Meanwhile, NCIS LA fans get emotional when CBS released photos of the couple on their wedding day. Many are relieved that the much-awaited event is finally happening. Others are hoping that Hetty (Linda Hunt) could attend the wedding.
"If Hetty isn't on their wedding, I'm gonna cry," one fan wrote.
The NCIS LA Operational Manager hasn't been seen this season yet. Hunt, however, assured that she will appear in Season 10. The 73-year-old actress got involved in a car accident last summer and needs more time to recover.
The Densi wedding will be the highlight of NCIS: Los Angeles Season 10 Episode 17, titled "Till Death Do Us Part." It will air on March 17 at 9/8c on CBS.
© 2020 Korea Portal, All rights reserved. Do not reproduce without permission.