'Outlander' Star Sam Heughan Receives Amusing Dating Tips From Kids; Caitriona Balfe Mocks The Actor's Shirtless Selfie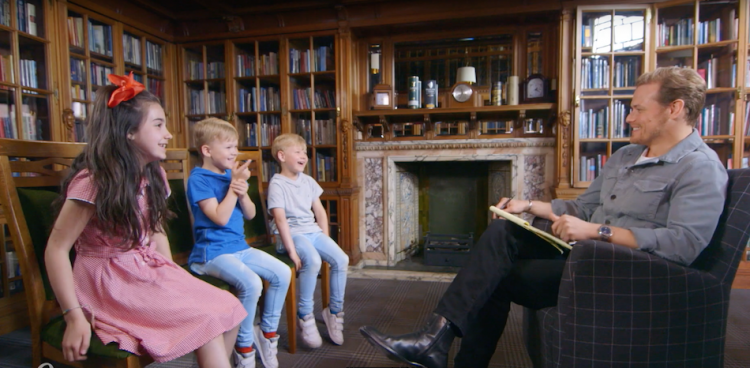 No one could believe that Outlander actor Sam Heughan doesn't know how to impress a woman. But apparently, he is quite a bit of "clueless" when it comes to dating in modern society. Therefore, he asks for advice from some wise kids on what he should do on a date.
Heughan is a great actor but once a while, he needs some "modern and timeless" advice, not for acting but rather in dating. The actor, who famously plays the role of Jamie Fraser in TV drama Outlander, first launched in November a campaign in Omaze to support his charity, My Peak Challenge. As his search for a date is nearing its end on February 21, 2019, he asked some kids for dating advice.
It started off with a suggestion from a young girl that Heughan should give his date a present like a gin to which Heughan and another boy are shocked to hear. Another boy tells Heughan that he can spy on her date to know what she likes. Heughan agrees that spying is a good idea.
When he asks the panel of young dating consultants on what he should wear on his date, one girl recommends that the actor should wear a leather jacket like Danny (John Travolta) from Grease. However, a boy adds a piece of hilarious advice to Heughan: do not wear leather shorts because apparently, when the leather shorts heats up, they got tighter and tighter.
Then it becomes even weirder when another boy adds, "You can't pull your shorts back up again" to which Heughan asks, "Why the shorts off?"
Another boy suggests that the 38-year-old actor should style his hair up and he needs a haircut. It is safe to say that the kids may not know who Heughan is since they are too young to watch his famous serious drama Outlander. This could be the reason why they are not quite impressed with the heartthrob's looks and not aware that this exact look makes many fans hearts flutter.
Other dating advice from the kids to Heughan are singing the Beatles' "Love, Love Me Do," don't ask her "How you doin'?" and shooting her with a flirting pose. Watch the full video of Sam Heughan and the kids below.
Heughan will be flying to Scotland the lucky lady that he will choose. They will share a candlelit dinner at the My Peak Challenge Gala. All donation for Heughan's benefit campaign will go to the My Peak Challenge's chosen charities Bloodwise and Marie Curie.
Meanwhile, Sam Heughan also shared on Instagram another peak of his hot body. However, his Outlander co-star Caitriona Balfe is not impressed with the actor's bulging muscles in his shirtless selfie and instead mocked him for it.
"Hey @SamHeughan looks like you've lost your clothes and your arm seems to be broken at an unfortunate angle .... are you okay? Need help?? Did someone mug you..??? ( Oh and also ... ... your hat is the wrong way round ...) #SOSforSam," Balfe wrote in her response to Heughan's post.
© 2020 Korea Portal, All rights reserved. Do not reproduce without permission.