'Outlander' Star Sam Heughan Teases New Action Thriller Film 'SAS: Red Notice'; Movie Releases First Promo Photo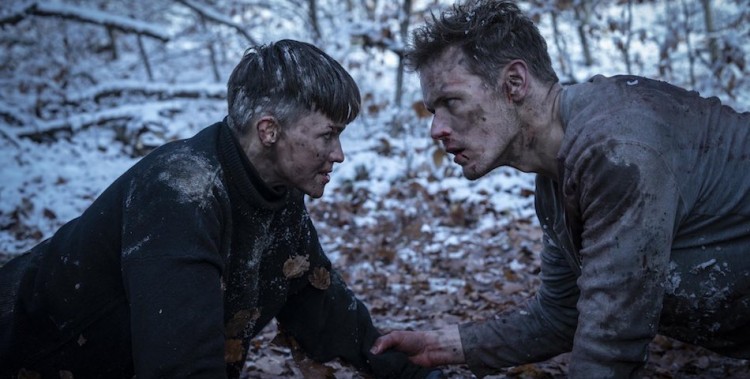 Sam Heughan's secret has been revealed. The Outlander actor shared on his social media accounts the secret project that he has been working on other than the Starz time-travel drama.
Outlander Season 4 has ended but work doesn't stop for Heughan. He has revealed in his recent social media post his new action thriller movie, titled SAS: Red Notice. The film is based on the novel of soldier-turned-author Andy McNab.
The 38-year-old Scottish actor shared a clip of him in front of a mockup of the Channel Tunnel in Budapest, Hungary. Heughan, who famously plays the role of Jamie Fraser in Outlander, said he can't say much about the movie but promises that it is an intense and action-packed one. Heughan is taking on the lead role on the film as Special Air Service soldier Tom Buckingham.
SAS: Red Notice is a story of an off-duty SAS soldier, Tom Buckingham, who is about to get married. However, his wedding plan is interrupted by the hijacking of a Eurostar train with about 400 passengers on board. Among the passengers is the injured Buckingham.
The hijackers' plan is to blow up the Channel Tunnel that connects England and France. Although he is injured, Buckingham will do everything to thwart the terrorist attack.
The movie also stars Ruby Rose, Andy Serkis, Tom Wilkinson, and Hannah John-Kamen. Rose plays the role of Grace, the heir of a private military company while Wilkinson's character Lewis is the patriarch of a private military company.
Serkis takes on the role of Clements, a liaison officer for the Prime Minister. John-Kamen, on the other hand, portrays Dr. Sophie Hart, who finds herself in the middle of the coordinated terror attack.
SAS: Red Notice shot scenes in London, Paris, and Budapest. The cast and crew wrapped up filming in these countries this week and also released the first promo photo for the movie. The film is helmed by Jackpot director Magnus Martens and it is scheduled to premiere in 2020.
Aside from SAS: Red Notice, another Heughan's movie will also hit cinemas next year: the Vin Diesel-led superhero film Bloodshot. In the movie, Sam Heughan portrays the role of Corporal Harlan "So Long" Shifflet, who got his nickname from the phrase that he often mumble after defeating his opponents.
Bloodshot's filming officially wrapped in October 2018. It is scheduled for release on February 21, 2020.
© 2020 Korea Portal, All rights reserved. Do not reproduce without permission.