JJ's Love Confession To Reid In 'Criminal Minds' Season 14 Finale Receives Mixed Reactions; More Of Their Love Story Next Season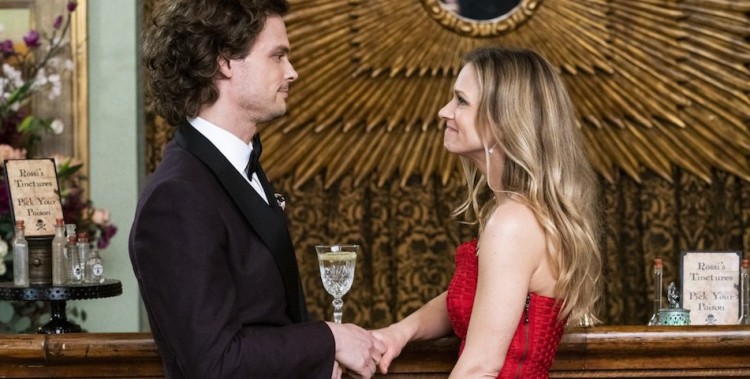 A new romance might emerge in the upcoming Criminal Minds Season 15 following BAU Agent Jennifer Jareau's love confession to Dr. Spencer Reid in Season 14 finale. However, not everyone is happy about it.
In the season finale, titled "Truth or Dare," Reid (Matthew Gray Gubler) and JJ (A.J. Cook) were taken hostage by a suspect that the BAU is hunting down. JJ gets challenged with a "Truth or Dare" game and choosing the former, she was forced to reveal her deepest, darkest secret. At gunpoint, she confessed that she always love Reid even though she is married have kids.
Later, at David Rossi's (Joe Mantegna) wedding, JJ tried to clarify her admission. She tells the genius BAU agent that she needed to say something that will get the attention of their unsub. Did she really make it up under duress or was she telling the truth?
Reid is also curious. She asked JJ is she mean what she said. JJ did not answer him but her gaze said it all.
Criminal Minds fans quickly share their thoughts about the finale. Some said they always knew that Reid and JJ have a special relationship while others thanked the series writers to finally revealing JJ's feelings towards Reid.
However, some fans are furious about JJ's sudden love confession. Many said they love JJ's husband, Will (Josh Stewart), even though he has few appearances in the show.
"JJ and Reid...idk. I love them both, but they are such great friends. AND if we lose Will bc of this twist I will be sad. Don't do that to Will. I love his appearances," one fan commented.
On whether JJ and Reid's love story will continue next season, executive producer Eric Messer revealed that they will definitely tackle it in the first couple episodes of Season 15. She also teased that viewers will definitely see Will in these episodes.
"We're going to dive into that in the first two hours [of Season 15] because we can't leave everybody hanging and then pretend it didn't happen. It's definitely a huge driver for the first handful of episodes that will help add layers to those characters again," she told TV Line.
Messer explained that they will deal with what happened between JJ and Reid early on in Season 15 to be fair to everyone. The showrunner said they don't want a sad Reid or JJ to look unfaithful or hurt Reid's feelings.
Criminal Minds was renewed for another season earlier this year. Season 15 will be the last installment for the CBS series. It is expected to premiere in September.
© 2020 Korea Portal, All rights reserved. Do not reproduce without permission.