'Criminal Minds' Season 14 Finale Spoilers: Rossi Is Getting Married + Prelude To Jane Lynch's Return In Final Season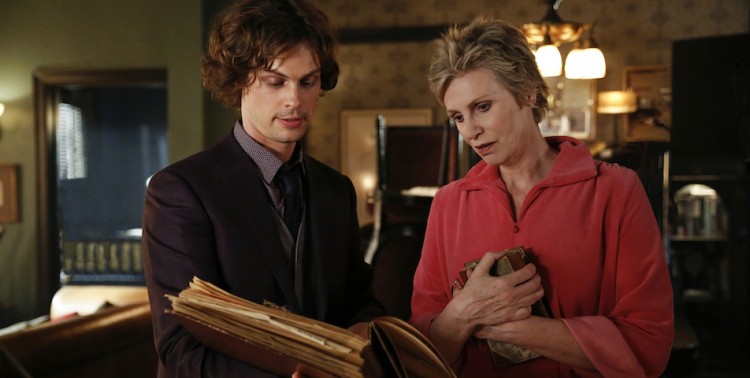 Criminal Minds Season 14 finale will be packed with a wedding, a case in LA, and a revelation that is related to one of the BAU members. Agent David Rossi is getting married in Episode 15 while the return of Dr. Spencer Reid's mother, Diana, will be teased.
Jane Lynch is reprising her role as Spencer's mother, Diana, in the final Season 15 of Criminal Minds. The actress confirmed her return herself by sharing a message on Twitter that she is back on the set of CBS crime drama. The tweet suggests that she will appear in an episode that will air in Season 15. The final season of Criminal Minds will only have 10 episodes.
The Glee star has eight appearances on the show. Her last was in Season 12 finale, when Reid's nemesis, Cat Adams (Aubrey Plaza), held his mother hostage.
Lynch's story could be in the premiere episode of Season 15 as showrunner Erica Messer has told TVLine that the return of Reid's mom is "related to a revelation" that will be featured in Season 14 finale. Criminal Minds Season 14 finale is set to air on February 6 at 10/9c on CBS.
Many are expecting that Reid and Diana's episode will be an emotional one as viewers have known that the latter's dementia is getting worst. She may possibly forget her son by the end of the episode and it will devastate Reid.
After CBS renewed Criminal Minds for its fifteenth and final season, it was revealed that there is a possibility that some of the past cast members of the show will return for the final installment. Messer said she hopes to honor the past characters but she is still uncertain on how storylines will go if these characters will make an appearance.
Meanwhile, on a happy note, Rossi (Joe Mantegna) is tying the knot with Krystall (Gail O'Grady) in Criminal Minds Season 14 finale. But before the celebration, the BAU team needs to travel to Los Angeles to investigate a series of fatal shootings in broad daylight following car accidents.
Based on the promo photos for Episode 15, titled "Truth or Dare," everyone will return home safely for the wedding. The images show the team members attending Rossi's wedding and everybody are having a great time.
On which part of Episode 15 will Diana's story will come in is still remains to be seen. Messer, however, teased that there will be a time jump in the finale episode to kick off their final 10 episodes next season.
© 2020 Korea Portal, All rights reserved. Do not reproduce without permission.