'The Clowned Crown' Episode 10 Spoilers: Secretary Lee Finds Out Ha Seon Is In Love With The Queen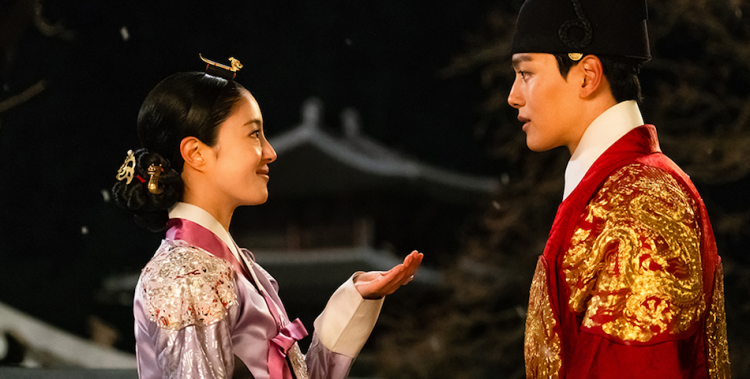 The blooming romance between Ha Seon and Queen So Woon in The Crowned Clown will be short-lived. Chief Royal Secretary Lee will find out about it and he will warn the clown that he can't fall in love with the Queen.
Chief Royal Secretary Lee (Kim Sang Kyung) will remind Ha Seon (Yeo Jin Goo) that he is just assuming the post of the real King Yi Heon (Yeo) hence he can't have a romantic relationship with Queen So Woon's (Lee Se Young). In the teaser for The Clowned Crown Episode 10, Secretary Lee sees Ha Seon holding the hand of the Queen.
Meanwhile, it looks like Queen So Woon will confront someone about the document that she found. The Queen is seen marching to the palace with the document on her hand.
Elsewhere, Shin Chi Soo (Kwon Hae Hyo) will continue to look for evidence that a clown is assuming the King's throne. He will also try to challenge the King's authority once again, possibly on Ha Seon's decision to collect taxes from the landlords.
In the previous episode, a government official revealed to Shin that there is a clown that looks exactly like King Yi Heon. Determined to prove that the King is an impostor, Shin ordered Court Lady Kim (Min Ji Ah) to check the left chest of the King for a scar.
Ha Seon, however, caught Court Lady Kim. She was then sentenced to be punished but Secretary Lee told her that the King will spare her life if she can make Shin confessed that he is the one responsible for the posters claiming that a clown is pretending to be the King.
Court Lady Kim was able to inform Shin that the King has a scar on his chest and also got a confession from the former official. However, Shin also revealed to her that he knows that the King caught her sneaking to his chamber. Court Lady Kim has failed to return to the palace hence Ha Seon failed to get Shin's confession.
In the upcoming episode, Shin will be able to find the location of Ha Seon's sister, Dal Rae (Shin So Yoon). This could mean that the lives of Dal Rae and Ha Seo's friend, Kap-soo (Yoon Kyung Ho), could be in danger from the clown's enemies.
The Crowned Clown is the story of a clown and a King who look alike. Amidst the power struggle to the throne and to avoid the attempts on his life, the king puts the clown on the throne to act like him. The Crowned Clown Episode 10 will air on February 11 at 9:30 p.m. KST on tvN.
© 2020 Korea Portal, All rights reserved. Do not reproduce without permission.