'What's Wrong With Secretary Kim' Actress Park Min Young Opens Up About Dating Rumors With Co-Star Park Seo Joon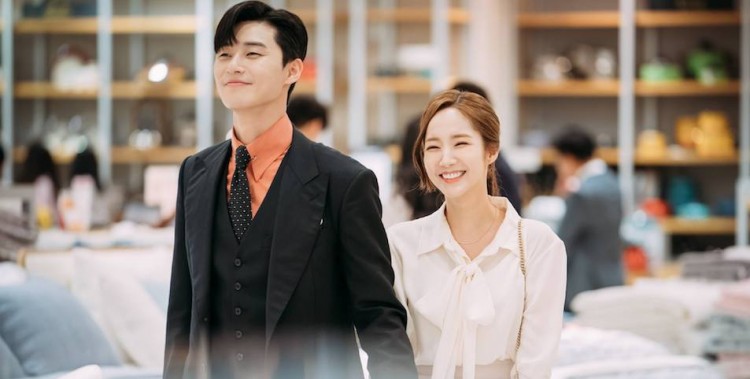 What's Wrong With Secretary Kim actress Park Min Young has admitted that she did try to secretly date someone in the past. However, she revealed that it is not with his co-star Park Seo Joon.
The lead stars of What's Wrong With Secretary Kim have been rumored to be in a relationship in real time because of their undeniable chemistry on screen. Although their respective agencies and Park Seo Joon himself already debunked the rumor, the speculations continue. Now, Park Min Young feel the need to finally put an end on it once and for all.
The actress stressed that she and Park Seo Joon never dated while or after filming their hit romantic comedy TV series. Min Young stated that his special relationship with the actor was all on screen and never in real life.
Park Min Young also clarified that all speculations that she and Seo Joon go on a trip abroad together are all false. She admitted that she went on a trip after filming What's Wrong With Secretary Kim but it was with her mother.
She expressed her concern that the dating rumor between her and the Fight For My Way actor overshadowed the efforts of the production staff and their co-stars. She said everyone worked hard for the K-drama and all showed great chemistry to each other.
The City Hunter actress admitted that she did try to date secretly but it was not with Seo Joon. She also hinted that she is not currently dating anyone and she has no plan on settling down as of yet.
"My final say about the dating rumor? I'm not dating. I'm not dating and I'm not getting married," Koreaboo quoted Park Min Young as saying.
Meanwhile, Park Min Young has been recently confirmed to star in the upcoming tvN's romantic comedy, titled Her Private Life. She will play the lead female character alongside Coffee Prince actor Kim Jae Wook.
The TV series is based on webtoon Noona Fan Dot Com. It tells the story of a Sung Duk Mi (Park), who lives a double life: as a talented gallery curator and as an idol fangirl. Her boss, Ryan (Kim), is a new director at the gallery. He is a famous painter in the art world until his retirement. He, later on, finds out about Duk Mi's double life and becomes a passionate fanboy of her.
Her Private Life is set to premiere after Lee Dong Wook and Yoo In Na's Touch Your Heart. The romance drama is set to air on February 6.
© 2019 Korea Portal, All rights reserved. Do not reproduce without permission.