'Outlander' Stars Sam Heughan & Caitriona Balfe Thrilled For Their TV Series Reference On The Simpsons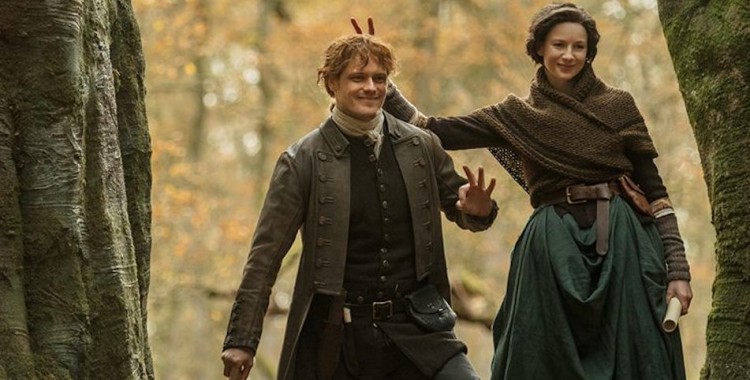 The best way for a TV series and its cast member to be recognized as the best is to win an award. But for Outlander stars Sam Heughan and Caitriona Balfe, the admiration and respect from the Springfield residents of The Simpsons are all that matters.
Heughan, who plays the role of Jamie Fraser in Outlander TV series, recently shared on Twitter a clip from an episode of The Simpsons. In the episode, a jury of Springfield residents deliberates Homer Simpson's career as a TV recap writer and the negative review he wrote for Outlander.
The episode features the courtroom drama when Krusty the Clown is accused of trying to run Homer down with his car after the latter gave Krusty's TV show a bad rating. But the members of the jury seems to be more concern about Homer's ratings of Outlander than Krusty's crime.
"It was justifiable Homer-cide," says Patty Bouvier. "He gave Outlander a B minus!" Selma exclaims. "That show knows what it wants to be! Come on," another juror says. "Oh, I've heard that gets really good about eight episodes in," Judge Roy Snyder says before handing down his not guilty verdict to Krusty for trying to kill Homer.
The Simpsons is the longest-running American sitcom and has been throwing pop culture references since 1989. To be mentioned on the show is indeed an honor to many celebrities. That explains Heughan's caption.
"This is better than any award," Heughan wrote in the caption.
"Whaaaaaaaaaaat???????? HOOOmer M G..!!!! Well I can now die happy!," Balfe (Claire Fraser) commented on her on-screen husband's post.
Apparently, the episode was originally aired in November. Perhaps since it the award season in Hollywood, Heughan decided to share the clip along with an interesting caption.
The Starz original series and its cast members have received several nominations from the Golden Globes, the Saturn Awards, and the People's Choice Awards since its debut in 2014. However, they haven't got a major nod from the Emmy Awards. So far, Outlander has been nominated for costume and music composition at the Emmys. Additionally, Balfe has been nominated at the Golden Globe Award for Best Actress for TV Series Drama for four consecutive years but has yet to win the award.
Meanwhile, Outlander fans are also thrilled of the Starz TV series reference on The Simpsons. Many could relate to the conversation of characters, saying some viewers initially gave the time-travel drama a B- rating until they watched it. Others agree with Heughan, saying awards doesn't matter if The Simpsons recognizes them as an A+ TV drama.
"You KNOW you've made it when you become a cultural reference in #TheSimpsons," a fan commented.
Outlander is currently on its fourth season which is also about to wrap up on January 27 in an episode titled, "Man of Worth." It will air on Starz at 8/7c.
This is better than any award.....@Outlander_STARZ pic.twitter.com/okQMLSa9dB — Sam Heughan (@SamHeughan) January 21, 2019
© 2023 Korea Portal, All rights reserved. Do not reproduce without permission.