BTS ARMY Expresses Mix Reactions About Proposal For A BTS Concert In North Korea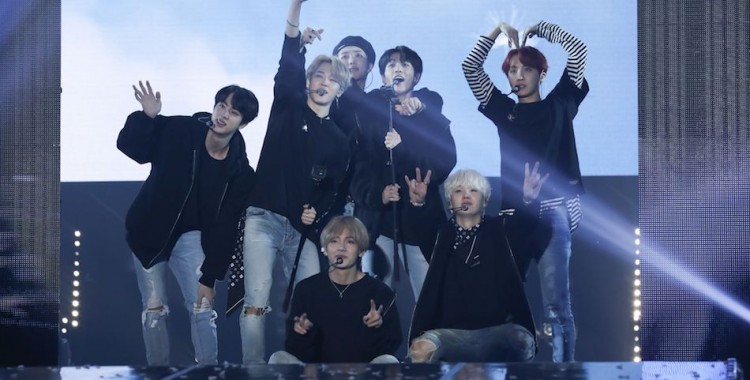 The idea of having a BTS concert in North Korea doesn't sit well for many members of the group's fandom. However, there are others who see it as an opportunity to strengthen the ongoing peace between South Korea and North Korea.
Korean National Culture, Sports and Tourism Committee's chairman Ahn Minseok has revealed this week that he is looking into the possibility of bringing BTS to perform in Pyongyang, North Korea in September. Apparently, the performance of the world-renowned K-pop group is to celebrate the one year anniversary of Pyongyang Joint Declaration between the SoKor and the North.
Koreaboo cited a report that Ahn already reach out to Big Hit Entertainment late last year about the matter. The politician reportedly asked the company if they could make an adjustment on BTS's schedule to accommodate their request.
This is not the first time Ahn brought up the idea of a BTS performance in North Korea. In September 2018, Ahn told Koreaboo that he is pushing for a BTS concert in Pyongyang to "mentally and culturally" unite the two countries.
But not all BTS fans, popularly known as the ARMY, is thrilled of the idea. Many ask Ahn to stop using BTS as a tool in political matters while others said there is nothing wrong with the idea as long as the safety of BTS members will be assured.
"It's another step towards the two countries finding peace and perhaps unification. There are families who haven't seen each other in decades due to the split... I don't see how wanting to help, and bring peace, would be something BTS and BigHit would be against. It's for a good reason," one fan wrote.
"I doubt that they will perform in North Korea. BTS stands for something bigger. They just spoke at the United Nations about their Love Myself campaign. They will not go there where this dictator who has starved, killed, tortured his people and continues to threaten the world. BTS will not turn a blind eye on this," another fan stressed.
As for BTS, Big Hit Entertainment has already released a statement. It carefully stated that they do not have any information to provide about the proposal as of yet.
The "Fake Love" singers are set to resume their Love Yourself world tour in a two-night concert in Nagoya, Japan on January 12 and 13. The group will then head to Singapore for a performance at the Singapore National Stadium on January 19.
BTS will end their Japan tour in another two-night concert on February 16 and 17 in Fukuoka, Japan. The "IDOL" hitmakers will also visit Hong Kong in March and Bangkok, Thailand in April. So far, Big Hit has yet to release new tour dates.
There were earlier reports that chart-topping K-pop group is already preparing for their next album. The new offering from the band is rumored to be released in early 2019.
If the group drop another album after their world tour, it is most likely that they will start another tour to promote it. Last year, BTS released Love Yourself: Tear in May and it was followed by Love Yourself: Answer in August. During that period, the BTS members basically live abroad as they are busy promoting their album and performing for their fans.
© 2020 Korea Portal, All rights reserved. Do not reproduce without permission.