BTS's V Melts K-Pop Fans' Heart With Kindness At The 2019 Golden Disc Awards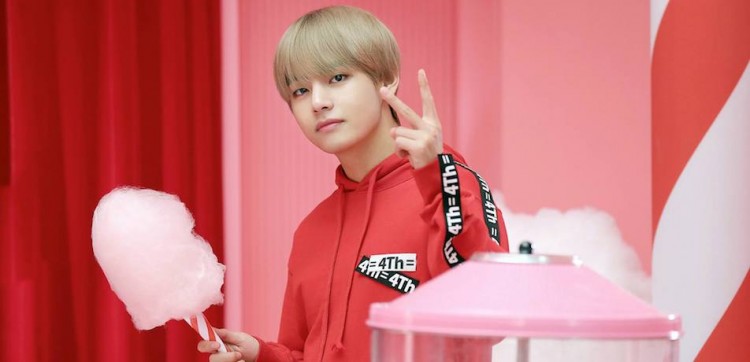 BTS member V shows concern to fellow K-pop idols even behind the camera but it doesn't go unnoticed to fans. The Bangtan Boys member has been lauded by netizens for helping out NU'EST W and Paul Kim during the recently concluded 2019 Golden Disc Awards.
On the second day of the 33rd Golden Disc Awards, BTS grabbed six awards including the grand prize Album Of The Year. But more than the recognition of their talent and their attention-grabbing piggyback entrance at the show, the boys were also praised for their good manners particularly Kim Taehyung, also known as V.
When the four members of NU'EST W returned to their designated seats after their performance, there are only three seats available for them. A fan cam of the whole incident was shared online and it shows members discussing among themselves on what to do. Since they don't want to leave one of the members standing, NU'EST W decided that two shall sit and two will stand behind.
While NU'EST W is having a discussion, it can be noticed that BTS member V is looking at them. Then he suddenly stands up from his seat and goes somewhere. V is seen grabbing a seat from the back row and bring it to NU'EST W so all members can sit. V returned to his place beside Jimin who gave him a thumbs up and high five as signs that he is proud of his bandmate's action.
But V's kindness did not stop there. At one point in the award show, BTS and Korean singer Paul Kim are the only artists left at the idols' designated seats. V notices Paul Kim sitting all alone hence he invited him over to sit with the rest of his group. A clip of V calling Paul Kim was also shared online. The latter is later seen joining BTS in their seats.
After the show, Paul Kim took to his Instagram to share a snap of him with the seven members of BTS. He can't hide his excitement and stated that he is now a fan of the "IDOL" hitmakers.
As kind-hearted as he is, V might also be thinking about the time at the 2018 Mnet Asia Music Awards in Hong Kong when Sunmi exchanged seats with him so he can sit next to his bandmates. Nonetheless, V's random show of kindness melt the hearts of many fans, both ARMY and non-BTS fans alike.
"V your parent's would be so proud. I am pleased to see the sweet and thoughtfulness of someone, who is in his own right extremely successful, take a moment to be a gentleman. He is a gentleman's gentleman ladies please take note. Fame and fortune have not rattled his most basic of manners. Nicely done V!!!! Nicely done!!!," one fan commented.
"Expect nothing less from V. He is not my bae but I can tell he is natural good person. You can't find those kind people nowadays who do good without thinking. Hope he never changes," another wrote.
© 2020 Korea Portal, All rights reserved. Do not reproduce without permission.