'Memories Of The Alhambra' Episode 11 Spoilers: Jin Woo and Hee Joo Share A Kiss; Jin Woo Loses His Company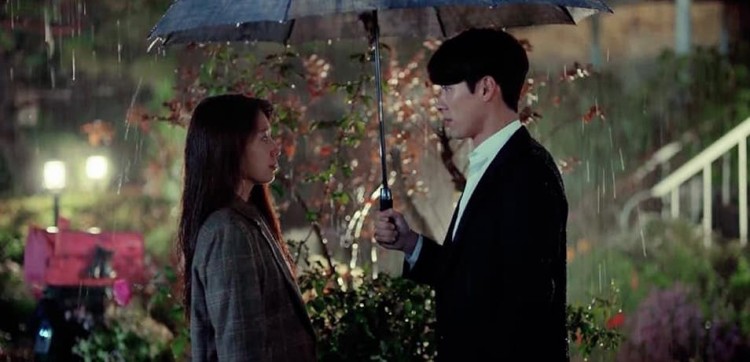 Jin Woon will get out of the dungeon alive but his position in his company is starting to crumble in the upcoming Memories Of The Alhambra Episode 11. Professor Cha will move to oust Jin Woo from his post of CEO of J One Holdings while the augmented reality game that he devoted his time with is shutting down.
Episode 11 will pick up when Jin Woo (Hyun Bin) is about to be killed by NPCs in the game. However, a bright light suddenly appears. Jin Woo could have come back to reality after the game server has shut down.
In a teaser for the upcoming episode, J One Holdings Director Park Son Ho (Lee Seung Joon) orders his people to shut down the server. Son Ho comes up with a decision to pull the plug after he learned that Jin Woo's secretary and game ally, Seo Jung Hoon (Min Jin Woong), has passed away. Additionally, his boss did not call back after the game ended.
Jin Woo sent a will to Son Ho before he started with the mission to look for game developer Se Joon (EXO member Chanyeol). The will indicate that if he or Jung Hoon died in the game or he did not call after the game, it means the game is flawed and should be shut down.
Jin Woo has failed to help Jung Hoon when he was attacked by several NPC at the train platform and died. At first, authorities can't find his body. This makes Jin Woo believes that his secretary is still alive. He continues with the quest to look for the "master" in Granada.
At the final duel in a dungeon, Jin Woo was attacked by more enemies. Jung Hoon suddenly appears when Jin Woo is about to be defeated. His secretary killed all enemies but he also realized that Jung Hoon is already. He is now part of the game like his former friend, Cha Hyung Seok (Park Hoon).
In Seoul, Hee Joo and Son Ho tried to call Jin Wo and Jung Hoon. They were later informed by Granada authorities that Jung Hoon's dead body has been found.
Meanwhile, Professor Cha (Kim Eui Sung) is dead serious in kicking Jin Woo out of the company. More so after Jin Woo's second ex-wife, actress Ko Yoo Ra (Han Bo Reum), told him a story about his grandson.
Though Jin Woo's position in J One Holdings is at risk, it looks like his relationship with Hee Joo (Park Shin Hye) will get better. In the teaser for the upcoming Memories Of The Alhambra Episode 1 , Jin Woo is seen asking Hee Joo about their relationship.
"Are you my girlfriend or what?" he asks. "I can be your girlfriend. It's not that hard. To be honest, I can do better," she replies. Hee Joo shares her umbrella with Jin Woo and he leans on to kiss her.
The previous episode of Memories Of The Alhambra recorded its best personal ratings with 11.77 percent in Seoul and a 9.20 percent nationwide viewership rating. Episode 11 will air on January 5 on tvN.
© 2023 Korea Portal, All rights reserved. Do not reproduce without permission.