Top 10 Korean Movies Of 2018 That You Should Watch Before The Year Ends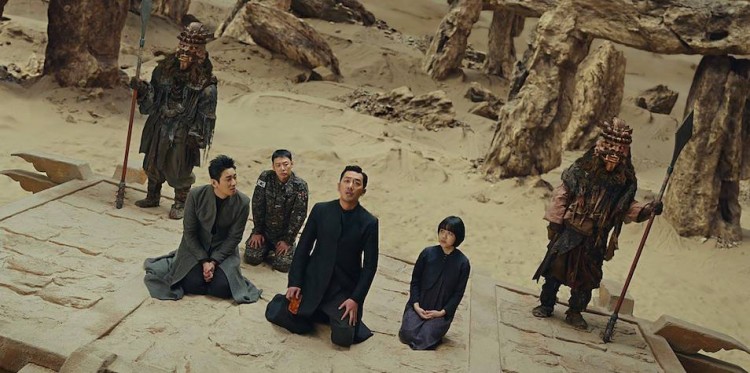 K-pop and K-drama are not the one one that gaining attention right now across the globe. Even Korean movies are breaking the international market as well. Here are some of the top 10 Korean movies 2018 that you have caught the hearts of moviegoers.
1.Along with the Gods: The Last 49 Days
With a box office earning of 92.5 million, this K-movie should not have passed your radar. It is a sequel to the first Along With The Gods, which is based on popular Naver webtoon of the same name by Joo Ho Min. The part two of the hit movie featured more gods and characters and was released in August.
Along With The Gods 2 follows angels of death Gang Rim (Ha Jung Woo), Hae Won Maek (Ju Ji Hoon) and Duk Choon (Kim Hyang Gi) who take part in Soo Hong's (Kim Dong Wook) trial. The three meet God of House (Ma Dong Seok) who remembers their past which stretches over 1,000 years ago. Traveling between this world and the next world and the past, the angels of death try to find their secret relationship.
2. Believer
This crime action movie follows a narcotic unit detective, Won Ho (Cho JinWoong), who works with a member of a drug ring, Rak (Ryoo Joon Yeol), to bring down the biggest drug ring in South Korea. The movie was released on May 22, 2018 and earned $39.2 million in box office.
3. Intimate Strangers
This 2018 South Korean comedy-drama is about a couple, plastic surgeon Seok Ho (Cho Jin Woong) and psychiatrist Ye Jin (Kim Ji Soo), who invited their friend over for dinner. They end up playing a game where they must share all their incoming messages and calls from their cell phones. Initially the game started lightly but it gets more uncomfortable as hidden truths start to surface.
The film was released in South Korea on October 31, 2018. It recorded a gross of US$39 million.
4. Keys to the Heart
It is a family comedy drama about brothers who get reunited after a long separation. Actor Lee Byung Hun played the role of a washed-up boxer Jo Ha. Park Jung Min portrays Jo Ha's brother, Jin Tae, who is a pianist with savant syndrome. The movie was released earlier this year and earned $25.8 million in box office.
5. The Accidental Detective 2
This is sequel to the 2015 action comedy The Accidental Detective. The second installment follows the life of a former detective, No Tae Soo (Sung Dong Il), and a comic book store owner, Kang Dae Man (Kwon Sang Woo). The two opened a private investigation agency and set out to solve their first mystery along with Yeochi (Lee Kwang-Soo) who runs a cyber private investigator agency. The movie recorded $24.3 million in box office after it was released in June.
6. Gonjiam: Haunted Asylum
This mystery/horror film focuses on the quest of an internet broadcaster and six other people who explore an abandoned hospital to experience fear. Back in 1979, 42 patients at Gonjiam Psychiatric Hospital killed themselves and the hospital director went missing. Since then, strange stories about the hospital have been passed around.
When the group entered the compound, they begin to stream live video from inside the hospital and the horror begins. Gonjiam: Haunted Asylum was released in March and earned nearly $20 million in ticket sales.
7. Be With You
This heartbreaking film is based on the Japanese novel and movie of the same name. The story revolves around the promise made by Soo Ah (Son Ye Jin) to her husband Woo Jin (So Ji Sub) and her son Ji-Ho (Kim Ji Hwan) before she died. Soo Ah promised to return to them on a rainy day after a year.
A year later, she did return but all memories about her family are gone. Their reunion is short-lived because it turns out that Soo-ah has to leave her family once again. The fantasy drama movie hit cinemas on March 14, 2018. It earned at least $19.4 million.
8. Detective K: Secret of the Bloodsucking Demon
This period adventure comedy movie revolves around two men and a lady who get together to solve a serial murder case. Kim Min (Kim Myung Min) is requested to investigate a serial murder case on Kanghwa Island. While looking into the case, he and his partner Seo-Pil (Oh Dal Su) run into a beautiful woman (Kim Ji Won) with incredible strength.
Kim needing her strength to investigate the murder cases. With a clue left behind on a dead body, they try to figure out who is the next target. The movie was released in February and grossed about $18.5 million.
9. Little Forest
This movie from Mr. Sunshine actress Kim Tae Ri hit the hearts of moveigoers. Kim played the role of Hye Won who gets tired of her life in the city and moves back to her hometown in the countryside. There, she heals her emotional wounds with the help of her two long-time friends.
Many Koreans have dubbed this film as one of the most healing movies of 2018. Released in February, the movie earned $10.7 million in box office.
10. Golden Slumber
This crime/drama is about an ordinary delivery man, Kim Gun Woo (Kang Dong Won), who gets framed for the assassination of a presidential candidate. He is forced to flee for his life when evidence against him begins to accumulate. Against the authorities, he tries to reveal the truth.
The movie was released earlier this year in South Korea. It earned $10.2 million in ticket sales.
© 2023 Korea Portal, All rights reserved. Do not reproduce without permission.