'Along With The Gods 2' Breaks Box Office Record In Korea; Fastest Movie To Reach 5 Million Mark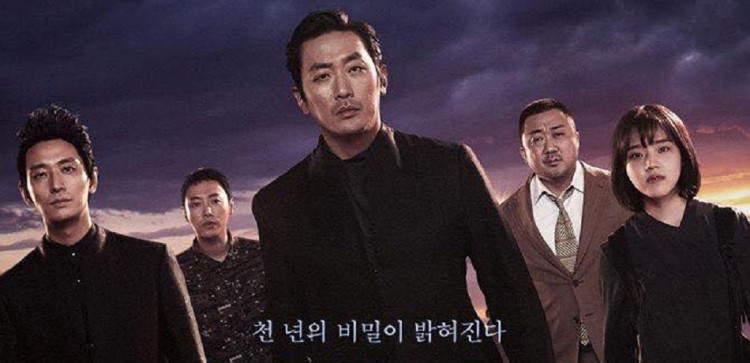 Along With The Gods 2 has set a new box office record in South Korea. It smashed the earlier record set by the Avengers: Infinity War which is 1.3 million tickets sold on opening day. The second installment of the 2017 movie Along with the Gods: The Two Worlds sold over 1.4 million tickets in SoKor on its first day alone.
The sequel also recorded over 5.4 million moviegoers on August 5, making it the fastest film to reach the mark. The second installment reached the five million mark in less than a week, in comparison to its predecessor's record of seven days. Along With The Gods 2 also surpassed the record set by Korea's biggest box office film to date, The Admiral: Roaring Currents. The movie achieved the five million tickets in six days.
Moreover, Along with the Gods: The Last 49 Days also made a new history in pre-sale tickets. The movie sold over 600,000 tickets before the official release. It is already expected that the sequel will likewise surpass the 10 million moviegoer record set by The Two Worlds in 15 days.
The cast and crew celebrate the feat by sharing a photo of Ha Jung-woo, Ju Ji-hoon, Lee Jung-jae, and director Kim Yong Hwa while holding balloons that spell out "500." The movie is also released in select theaters worldwide.
The fantasy sequel revolves around the adventure of the three reapers as they were promised to be reincarnated after they completed their 49th trial. The actors from the first movie reprised their respective roles as grim reapers Gang-rim (Ha Jung-woo), Haewonmak (Ju Ji-hoon) and Lee Deok-choon (Kim Hyang-gi). Their mission is to guide the soul of Kim Soo-hong (Kim Dong-wook) to the underworld.
The second installment also features a new character, the god Seung-ju (Train to Busan actor Ma Dong-seok), who remembers the grim reapers' past. Actors Oh Dal-su and Choi Il-hwa were earlier removed from the film after they were accused of sexual misconduct.
Oh has reprised his role in the first movie as an afterlife prosecutor. Choi, on the other hand, didn't appear in the first film but was supposed to play an essential role in the sequel. Both actors already filmed their scenes when the film studio decided to fire them. They were eventually replaced by Korean actors Cho Han-cheul and Kim Myeong-gon.
Meanwhile, Along With The Gods fans have something to look forward to in the coming years. Last month, it was revealed that two more sequels of the movie are scheduled to be filmed next year.
© 2019 Korea Portal, All rights reserved. Do not reproduce without permission.