'Encounter' Episode 7 Spoilers: Soo Hyun Shows Determination To Live Her Own Life; Puts Her Father's Political Ambition At Risk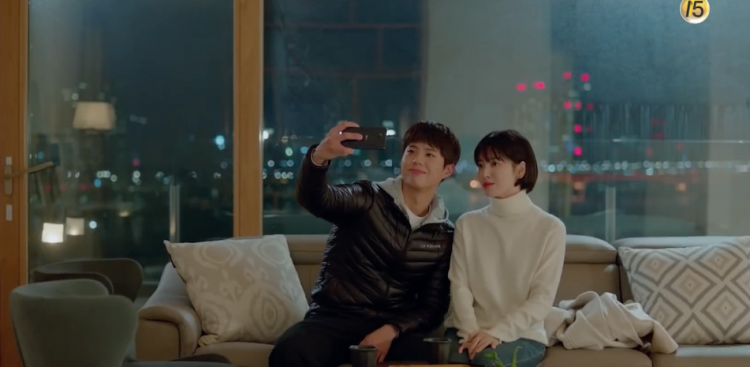 Cha Soo Hyun has finally found the courage to live the life that she wanted without being cautious of what the public, her family, and the family of her ex husband will tell about her. In the upcoming episode of Encounter, Soo Hyun will show what she can give up for the name of love.
However, it looks like Kim Jin Hyuk (Park Bo Gum) will distance himself to protect Soo Hyuk (Song Hye Kyo) from being judged by the public or probably for her not to lose her hotel. In the teaser for upcoming Episode 7, someone can be heard talking to Jin Hyuk about what could Soo Hyun lose when he will continue his relationship with the former wife of an heir to a large business conglomerate. The man in the conversation could be Soo Hyun's father.
The Donghwa Hotel was given to So Hyun as alimony after her divorce to Jung Woo Seok (Jang Seung Jo). Under the alimony agreement, So Hyun should not get involved in any scandal. If she did, she might be removed as CEO of the hotel which is part of Taekyung Group that is owned by Woo Seok's family.
Int the end of the previous episode, everyone who attended the opening of Donghwa Hotel was shocked when Soo Hyun admitted that she and Jin Hyuk are already in a pre-relationship stage. Her confession happened in front of her parents, ex-husband, former mother-in-lawI, and everyone else.
The chances of Soo Hyun's father, Cha Jong Hyun (Moo Sung Geun) to be elected as president of the country will be affected as well with her latest revelation. The Taekyung Group is his biggest supporter of Cha on his campaign. Pissing off his daughter's former mother-in-law, Kim Hwa Jin (Cha Hwa Yeon), could end his political ambition especially now that Soo Hyun is showing conviction that she wouldn't be dictated again on how to live her life.
"I thought that living my own life was a luxury I couldn't have. For the first time, I will take command of my life," Soo Hyun tells someone in the teaser.
Meanwhile, Soo Hyun and Jin Hyuk will continue to bump to each other after the big reveal. Soo Hyun's trusted driver Nam Myung Shik (Go Chang Suk) let the two spend time together.
Jin Hyuk will also get the chance to see the apartment of Soo Hyun. The two are seen in Encounter Episode 7 teaser taking pictures at Soo Hyun's place. Jin Hyuk also sees the slippers he bought for Soo Hyun when they first met in Cuba as well as the red Christmas ornament he gave her in one of their dates.
Encounter Episode 7 will air on December 19 at 9:30 p.m. The tvN K-drama airs every Wednesdays and Thursdays.
© 2019 Korea Portal, All rights reserved. Do not reproduce without permission.