K-Drama 'Encounter' Drops First Photos Of Park Bo Gum In Upcoming TV Series; Actor Looks Calm & Innocent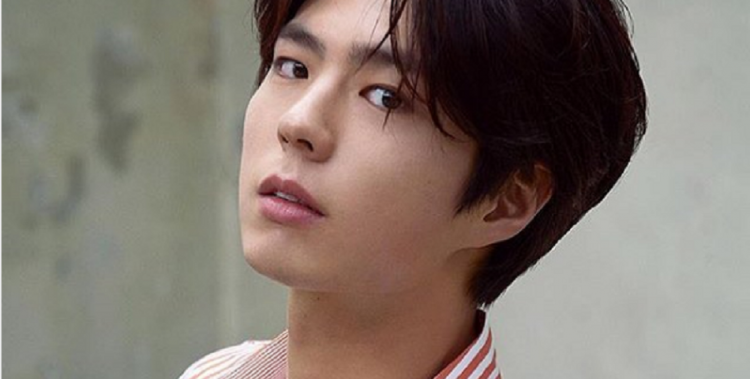 Korean network tvN has teased on what to expect from actor Park Bo Gum in the upcoming Korean drama Encounter. By the looks of the initial photos of Park playing his character, he will make the hearts of many fans flutter.
After tvN released the first official photos of Song Hye Kyo for Encounter, the network now dropped three photos of Park Bo Gum. If Song looks elegant but lonely in her character snaps, Park exudes different aura in his first stills. In the photos, the series' leading man looks young, innocent, and happy. All of the images were taken in a library and Park's character reflects a man who loves to read.
Park Bo Gum, playing the role of Kim Jin Hyuk, is dressed in a casual white long sleeve shirt and slacks. The first photo shows him calmly reading a book. The second image features the actor listening to music while enjoying a different book as a smile appears on his face. The third photo seems to have been taken in a different time as Park is seen wearing a white collared shirt and topped with a gray jacket.
"From the very first filming, Park Bo Gum slipped into the character of Kim Jin Hyuk like a second skin. His innocent smile and his natural manner captured the hearts of the staff as well," the production staff of Encounter said about the actor (via Soompi).
Park Bo Gum portrays the role of Kim Jin Hyuk, an ordinary young man who is content of his life and always finds happiness even in small things. Song Hye Kyo plays the role of Cha Soo Hyun, a politician's daughter who has never been able to decide for herself. She was forced into an arranged marriage with an heir of a wealthy conglomerate which eventually ends in divorce. She constantly lives under a spotlight.
Cha Soo Hyun and Kim Jin Hyuk have nothing in common when it comes to their social status. However, based on the first photos of Encounter lead characters, it looks like both of them love to read books. In one of her first pictures as Cha Soo Hyun, Song Hye Kyo is seen reading a book while on board a plane.
The characters will meet by chance, and it could be happening in a library or a bookstore. Their first encounter will eventually lead to a romance that will also turn both of their lives into chaos.
tvN has also confirmed that Encounter will premiere on November 28. The series will take the 9:30 p.m Wednesday-Thursday slots of The Stars Have Left Your Eyes.
The Encounter is the K-drama comeback for both Song Hye Kyo and Park Bo Gum. Song last appeared in a TV series in 2016 hit drama Descendants of the Sun along with her now husband, Song Joong Ki, who coincidentally is also Park Bo Gum's close friend. As for Park, he last appeared in 2016 series Love in the Moonlight.
© 2019 Korea Portal, All rights reserved. Do not reproduce without permission.