'Clean With Passion For Now' Episode 7 Spoilers: Oh Sol's Brother Finds Out Her Secret Job; Mr. Jang Can't Stop Falling In Love With Oh Sol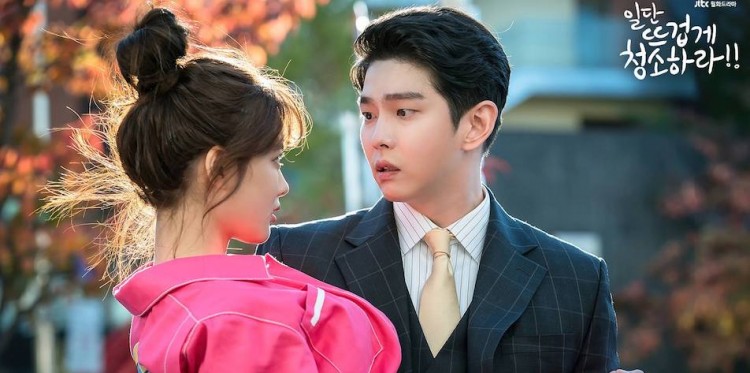 Jang Seok Kyul could no longer stop his feelings toward his new cleaning fairy, Gil Oh Sol. But in the upcoming Clean With Passion For Now Episode 7, Oh Sol will resent him because of what he told her earlier.
In the previous episode, Oh Sol (Kim Yoo Jung) and Mr. Jang (Yoon Kyun Sang) shared a passionate kiss. The next day, Oh Sol tried to ask her boss if they could talk about the kiss. However, Seok Kyul bluntly told her that he has not interested in dating anyone and he has no intention of asking her to be his boyfriend.
Oh Sol's is deeply hurt by Seok Kyul's words hence she decided to just forget about her feelings towards her boss. Unfortunately for Seok Kyul, he knows that he is already falling in love with his employee despite telling her that he is not interested in her.
In a teaser for Clean With Passion For Now Episode 7, Oh Sol is seen telling the CEO of Cleaning Fairies that she is also not interested in dating especially a man like him. This would definitely hurt Seok Kyul's ego and as seen in the sneak peek, it further affects his work.
Meanwhile, the employees of the Cleaning Fairies are starting to notice the changes on Seok Kyul's behavior. Secretary Kwon (Yoo Sun) believes that all of it started when Oh Sol joined the company. It looks like Secretary Kwon will give an advice to her boss to pursue the woman who has been bothering his mind in the past few days and not to worry about the consequences of his action.
Elsewhere, Oh Sol's taekwondo athlete brother, Gil Oh Dol (Lee Do Hyun), finds out about her job that she has been hiding from her family. Oh Sol knows that her father will also find out pretty soon that she is not working as an office staff.
Clean With Passion For Now is based on 2015 webtoon series of the same title. It follows the life of Oh Sol (Kim), who has positive personality but doesn't care much about hygiene, and a cleaning company CEO, Jang Seok Kyul (Yoon), who has mysophobia of fear of germs. Clean With Passion For Now airs Mondays and Tuesday at 10 p.m. KST on JTBC.
© 2023 Korea Portal, All rights reserved. Do not reproduce without permission.