'Clean With Passion For Now' Episode 5 Spoilers: Oh Sol's Life In Danger; Mr. Jang Is Stalking Oh Sol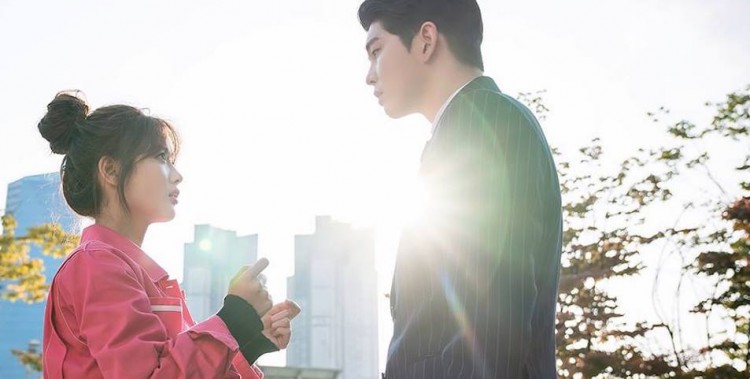 Cleaning Fairy CEO Jang Seon Kyul will finally show that he really cares about Gil Oh Sol in the upcoming Clean With Passion For Now Episode 5. It seems like Oh Sol will be sent to a client that has been blacklisted by the cleaning company and Mr. Jang will try to keep her from any harm.
It looks like Oh Sol (Kim Yoo Jung) still has her job after all. In the previous episode, Mr. Jang (Yoon Kyung Sang) fired Oh Sol after she stepped on one of the limited edition action figures of their client. Mr. Jang could have watched the CCTV footage of the house and has seen the incident is not Oh Sol's fault. Most likely, Mr. Jang's very reliable assistance, Secretary Kwon (Yoo Sun), finds out the truth about what happened to the action figure and inform her boss about it.
In next week's episode of Clean With Passion For Now, it looks like Oh Sol will be sent alone in a cleaning job. However, it turns out that the client has been blacklisted of the company possible for mistreating the cleaning crew. It is still unclear on how Oh Sol gets the cleaning assignment.
Towards the end of the teaser for Episode 5, Mr. Jang is checking on the location of Oh Sol's cleaning assignment and the list of clients that have been blacklisted by the company. Then he is seen driving away in a heavy rain, presumably on his way to save Oh Sol to a dangerous client.
Meanwhile, after a series of encounters with Oh Sol including the unexpected kiss, Mr. Jang can't stop thinking about his new employee. At one point in the teaser, he was seen following Oh Sol and watches her playing with a stray cat in the park.
"The change of atmosphere between Jang Seo Kyul and Gil Oh Sol after the sudden kiss will bring fresh laughter. Please pay attention to the relationship changes between the two who are starting to get a little bit more and more involved," Soompi quoted the production crew as saying.
Mr. Jang, who has an extreme case of mysophobia or the fear of germs, will continue to communicate with the student of his late doctor. Seon Kyul will tell his new doctor about his issues whenever he is near Oh Sol or the latter touches him. The doctor advises him to find out whether or not it is solely Oh Sol's touch that distracts him.
The doctor's identity is still a mystery but some viewers have shared their guess on who he might be. Many think that the doctor is actually Choi In Ha (Song Jae Rim), the jobless man who lives on the rooftop of Oh Sol's house. The brand new episodes of Clean with Passion For Now will air on December 10 at 9:30 p.m. KST on JTBC.
© 2023 Korea Portal, All rights reserved. Do not reproduce without permission.