'Clean With Passion For Now' Drops New Teaser & Posters; Reveals Supporting Characters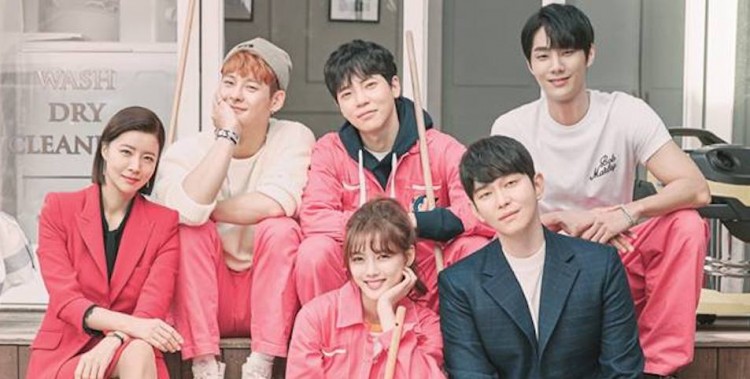 Korean actress Kim Yoo Jung's fans will have to wait for few more days before her highly-anticipated return on television. Kim's upcoming romantic comedy series, titled Clean With Passion For Now, has teased what to expect in the show with a teaser and a set of new posters.
Clean With Passion For Now follows the life a cleaning company CEO Jang Sun Kyul (Yoon Kyun Sang) who has fear of germs and a passionate job seeker woman, Gil Oh Sol (Kim Yoo Jung), who prioritizes survival in life over cleanliness. Oh Sol will work at Sun Kyul's company and she will eventually help him overcome his fear.
The K-drama released a brand new teaser and a new set of posters ahead of its premiere later this month. The sneak peek shows Sun Kyul's obsession with cleanliness while Oh Sol doesn't mind to get dirty. Meanwhile, the posters feature the supporting characters in the series.
Criminal Minds actress Wang Yoo Sun will portray highly-skilled Secretary Kwon in Sun Kyul's cleaning company. She appears cold on the surface but once she gets home, she transforms into a loving mother to her son.
Kim Won Hae will portray Oh Sol's father, Gil Gong Tae. He lost his wife in an accident. Since then, he raises his children as a street cleaner. Kim Won Hae's character is expected to melt the hearts of viewers and them laugh as well. Actress Kim Hye Eun, on the other hand, will be Sun Kyul's mother Cha Mae Hwa.
Another poster features Oh Sol's fellow "cleaning fairies." Lee Young Sik (Kim Min Kyu) who feels awkward at dating but very good at taekwondo. Kim Dong Hyun (Hak Jin) was known for his fighting skills when he was young but he doesn't have much interest in women. Hwang Jae Min (SURPRISE U member Cha In Ha) is a rookie actor but is working part-time as a cleaner to pursue his dream.
Another poster showed the main cast members dressed as the cleaning crew. Yoon Kyun Sang and Yoo Sun look sharp in office attire while Kim Yoo Jung, Kim Min Kyu, Hak Jin, and Cha In Ha are in pink janitors' uniforms.
The production staff stated, "Yoon Kyun Sang and Kim Yoo Jung have such a perfect synergy that we couldn't wish for anything more. Yoo Sun holds everything together and the teamwork between the energetic Kim Min Kyu, Hak Jin, and Cha In Ha is amazing. They all have their unique charms and immense passion for acting and bring laughs and healing with their synergy. The viewers will be able to feel this too," Soompi quoted the series' production staff as saying.
Actor Ahn Suk Hwan will also appear in the series as Sun Kyul's grandfather. Lee Do Hyun, on the other hand, will play the role of Oh Sol's younger brother, Gil Oh Do. He will also join the cleaning crew in order to fall in love after hearing that his senior crush fell in love with one of the cleaning crew, Lee Dong Hyun.
Clean With Passion For Now is set to premiere on November 26 at 9:30 p.m. KST on JTBC. It will take the Monday and Tuesday timeslot of The Beauty Inside.
© 2023 Korea Portal, All rights reserved. Do not reproduce without permission.