'NCIS' Newcomer Diona Reasonover Admits She Doesn't Want To Feel Like Abby's Replacement; Shares Her Experiences As New Cast Member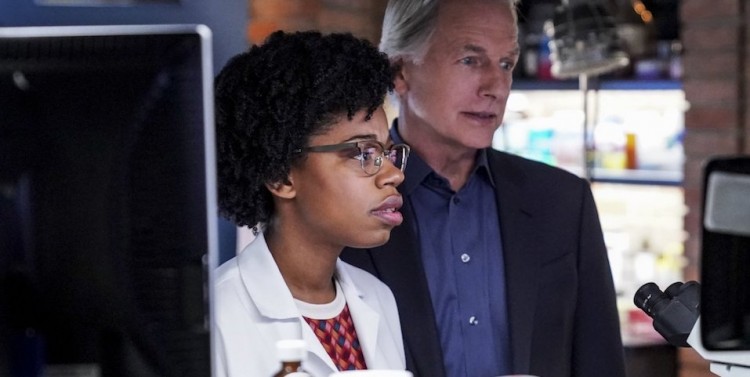 NCIS actress Diona Reasonover has opened up about the new role she has been playing on television for the last couple of months. Reasonover also admitted that she freaked out the first time she saw her name in the opening credits of NCIS Season 16.
Reasonover is not entirely new to the NCIS environment, particularly to Abby Sciuto's (Pauley Perrette) lab. She already had a guest appearance in the previous season of the CBS longest-running procedural drama as Dr. Mallard's (David McCallum) graduate assistant Kasie Hines.
At one point, she assisted Abby in the lab. This season, the lab and everything on it are completely hers.
Kasie has stepped in as NCIS forensic analysis after Abby left NCIS in Season 15 following the traumatic incident in her life that also caused the life of MI6 Agent Clayton Reeves (Duane Henry). Reasonover admitted that she doesn't want to feel like a replacement to a fan-favorite character. Lucky for her, many fans are beginning to like Kasie as the season progresses.
"I didn't want to feel like a replacement. But I have fans coming up to me and they'll say, 'I wasn't sure how I was gonna feel about you - but I like you,'" Reasonover told The New York Post.
The Clipped actress also shared the story on how she go to the NCIS audition in crutches. Reasonover said she got an email about the audition just two days after she had a knee surgery. With the help of painkillers and crutches, she was able to make it to the audition and at the end got the role as Kasie.
The 26-year-old star also expressed excitement when told that some fans have dressed as Kasie for Halloween. Reasonover can't also hide how proud she is when asked about her reaction when she first saw her name in NCIS opening credits.
"I don't know why it didn't occur to me that I'd be in the opening credits, so I freaked out so much. [Patricia and I] were both like, 'What?!' Now she won't let me talk during NCIS. I try to tell her funny stories, like, 'Oh, you know what's funny about this scene?' And she's like, 'Shush, shush, shush, shush, shush. Don't talk to me. I'm watching my show,'" she revealed. Reasonover is referring to her wife, actress/writer Patricia Villetto.
Reasonover also talked about her first day on the set of NCIS Season 16. She revealed that she was very worried because at the time her knee is still recovering and her leg is still wobbly. The NCIS actress admitted that she had doubts that she can do her character well.
She gained confidence when some cast members showed her that they also have bumps and bruises while filming. It assured her that everything will be alright.
As for the medical and scientific terminologies that are used in the show, Reasonover has no problem with those. Although she admitted that she did not do well in chemistry or biology in high school, she gets help now from her sister who is a doctor.
Reasonover revealed that her bloopers on set are not on lines but more of her being a clumsy person. She often trips over and even recalled a time when she knocked over a whole row of chairs on the set.
© 2019 Korea Portal, All rights reserved. Do not reproduce without permission.