MONSTA X Shares Stage With The Chainsmokers At The 2018 Jingle Ball Concert; K-Pop Group Met Camilla Cabello & Shawn Mendes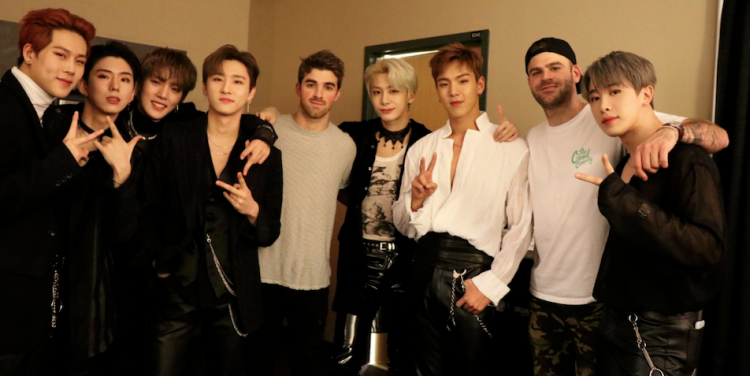 MONSTA X had the best time of their lives when they performed at the iHeartRadio Jingle Ball Tour 2018 and was able to join The Chainsmokers on stage. The K-pop group has expressed how excited they were when they performed alongside the famous American duo.
MONSTA X was the only K-pop act in the star-studded lineup for iHeartRadio's year-end Jingle Ball concert tour. Aside from closing the tour stop in Boston, MONSTA X also made a surprise appearance on stage while The Chainsmokers are performing their hit song "Something Just Like This."
This is not the first time for some members of MONSTA X to meet Alex Pall and Andrew Taggart. Earlier this year, The Chainsmokers duo met Hyungwon, Shownu, and I.M. at the 2018 Ultra Music Festival in Korea.
"Last time we met, I was with my fellow members Shownu and I.M. But this time, I was able to personally introduce [The Chainsmokers] to all of the MONSTA X members, which made me very happy," Hyungwon said after their performance with The Chainsmokers.
He also expressed an interest to do a song with the duo in the future. The group also talked about their desire to be at the Jingle Ball next year and they promised that they will continue to perform their best for the remaining Jingle Ball tour stop in New York.
MONSTA X was also able to meet Camilla Cabello, Shawn Mendes, 5 Seconds of Summer, and more artists during the concert tour. The seven-member group shared on social media some of their photos with the other celebrities. See their photos below.
The iHeartRadio Jingle Ball is an annual concert tour which is being held before Christmas. This year, the artists are performing in several cities in the U.S. including Los Angeles, San Francisco, Philadelphia, Boston, Minneapolis, and New York.
MONSTA X members Shownu, Minhyuk, I.M, Hyungwon, Jooheon, Kihyun, and Wonho appear in all six stops. The Jingle Ball tour will end in New York City's Madison Square Garden on December 7.
Meanwhile, MONSTA X is also currently promoting their latest album Take.1 Are You There? along with its title track "Shoot Out." The group also released an all-English version of "Shoot Out," which premiered at Los Angeles' 102.7 KIIS FM last month.
[#MONSTA_X]
MX USA in 보스턴
징글볼 #jingleBall in 보스턴 현장 포토!

몬스타엑스 × 체인스모커스
Something Just Like This#MONSTAX #몬스타엑스 #The_Chainsmokers #체인스모커스 @TheChainsmokers#MONSTAX_USA #MONSTAX_JingleBall pic.twitter.com/dD5n2O2MCR — 몬스타엑스_MONSTA X (@OfficialMonstaX) December 5, 2018
[#민혁] Great show tonight @Camila_Cabello "Never be the same" is one of my favorite songs this year! #monbebe pic.twitter.com/T2jYVFv1zy — 몬스타엑스_MONSTA X (@OfficialMonstaX) December 5, 2018
[#MONSTA_X]
MX USA in 보스턴
징글볼 #jingleBall in 보스턴
특별한 만남! 션 멘데스 @ShawnMendes#MONSTAX #몬스타엑스 #MONSTAX_USA #MONSTAX_JingleBall#Shawn_Mendes #션멘데스 pic.twitter.com/KPVqOcAyXS — 몬스타엑스_MONSTA X (@OfficialMonstaX) December 6, 2018
[#MONSTA_X] Backstage hang with @5SOS pic.twitter.com/3UcQer0XNu — 몬스타엑스_MONSTA X (@OfficialMonstaX) December 6, 2018
© 2019 Korea Portal, All rights reserved. Do not reproduce without permission.